NBA 2K22 Best Badges Guide: How to Choose Best Badges For Your Player in NBA 2K22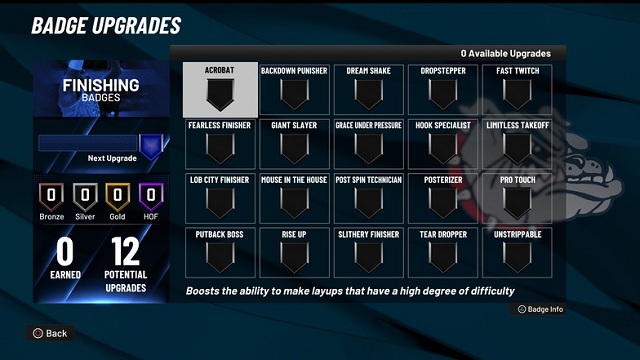 If you want to have better performance in MyCareer game Mode, it is essential for you to know how to use badges to maximize the abilities of the MyPlayer in NBA 2K22. Badges can be used to offer players with boosts to their basic attributes and abilities. So, you need to decide the best ones to suit for your player's style in the game. In addition, if you want to level up these badges quickly, you can buy
Cheap NBA 2K22 MT
to earn more XP for upgrading them in a short time.

What's the Badges in NBA 2K22?
There are four different tiers for each badge that will add the boost at different levels. They are Bronze, Silver, Gold, and Hall of Fame. It is important to upgrade the best badges to Hall of Fame Level.
And there are totally 80 badges in NBA 2K22 in four different categories. They are Shooting, Finishing, Playmaking, and Defense/Rebounding. Players need to choose the suitable badges for each category in the game to maximize players' potential.
How to Choose Best Badges For Your Player
Best Shooting Badges
One badge that's been getting a lot of attention since last year is the Green Machine. This badge gives you a wider window for getting Perfect or Excellent releases, once you've consecutively hit Excellent releases. It's a great way to get a hot hand and one of the best badges to capitalize on good shooters. Additionally, if you're having troubles consistently hitting Perfect releases (which a lot of people are on 2K22), this badge can be of great help.
Deadeye is another reliable shooting badge that's been a part of NBA 2K for years. This badge reduces the impact of approaching defenders that are closing you out – something that can often be quite annoying. Especially with defenders with large wing spans like Giannis Antetokounmpo, you'll sometimes experience that the impact they have when closing out is massive. Deadeye is one way to combat this.
Best Defensive Badges
Rim Protector: Blocks are way more effective in NBA 2K22, and this badge amplifies them even more. With this, it's more likely you'll get blocks and less likely you'll be dunked on. It's a slasher kryptonite.
Pick Pocket: The steal stat actually matters this year too, which makes this badge very useful. Simply put, it increases your chances of steals and strips. Paired with the right stats, this badge is unstoppable.
Menace: This badge causes attributes to drop when sanding in front of your opponent as long as good defense is happening on the court. In other words, if you're going up against a Floor General, this badge counteracts it.
Best Finishing Badges
Slithery Finisher and Acrobat are both great finishing badges that make you a much better finisher inside. The former improves your ability to avoid contact at the rim while the latter makes it easier to convert difficult layups. When combined, these two badges will have a big impact on your effectiveness in traffic under the rim.
Best Playmaking Badges
Ankle Breaker: Ankle Breaker is a mainstay that's still relevant in 2K22. It causes defenders to fall more frequently when biting the wrong way. With all the above-mentioned dribble buffs, this badge can make your opponents look foolish.
Quick First Step: This badge increases your launch speed after triple threats and size ups. Given how strong defenders are in 2K22, there's lots of opportunity for a decent counter.
Although you have known how to select the best badges for your player in the game, you will also need a lot of practise and match with other skilled players. And if you want to build a all star team with good players, you can
Buy NBA 2K22 MT
to purchase good players from the shop in nice prices.