In Apex Legends, some legends have a specific focus.
Lifeline is all about healing, Bloodhound is all about tracking. As with Gibraltar, most of his abilities feature a defensive playstyle
, which makes him a great asset to the team because he acts as a tank and he has always been skilled at getting others out of dangerous situations. So, if you wanna use this magnificent beast, this Apex Legends Gibraltar guide has everything you need to best play this legend in Apex Legends.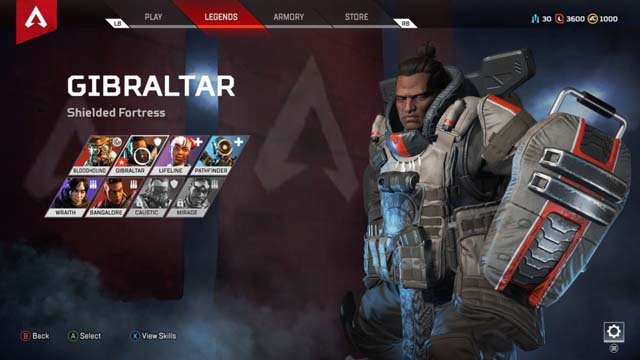 Abilities
Passive Ability: Gun Shield
Whenever Gibraltar aims down sights he will deploy a shield on his arm to protect the upper half of his body. You can, of course, fire through this shield, but enemies will have to inflict 100 damage to destroy the shield before they can start to damage your regular Shields and Health.You can tick off this ability by hitting the button prompt (H on PC).
Tactical Ability: Dome of Protection - 20s Charge Time Once Shield Falls
Gibraltar lays down a dome, a deployable defensive tool to block attacks, allowing you and your teammates to take shelter within its radius.The dome lasts 15 seconds, which should give you plenty of time to heal, reload. It's also enormously helpful when you're ambushed, buying your team some breathing space to gather themselves and mount a counter-offensive.
Ultimate Ability: Defensive Bombardment - 4m 20s Charge Time
The Ultimate Ability of Gibraltar is called "Defensive Bombardment". It works as an air strike, throw in a smoke grenade and it rains a hell of damage in one area. Since throwing a smoke grenade may very well put you well within the area where high explosives are going to be dropping, you should combo the Defensive Bombardment with the Dome of Protection which provides infinite health to rain terror all around you while keeping your team alive.
Tips On Playing Gibraltar
When you play Gibraltar, you can use his Gun Shield ability to draw aggro from enemies while his teammates can attack distracted opponents from either flank. Besides, the shield takes a little bit of time to deploy, so you should aim down your sights first to ensure safety. You can unlock more weapons for Gibraltar with
Cheap Apex Legends Coins
at
Rvgm.com
, where you can enjoy the cheapest price online. The Gun Shield can only take so much damage before needs to recharge, therefore, keep an eye on your shield's health so it never goes down unexpectedly.
As with the Dome of Protection ability, as beginners, we recommend you to throw this down any time you're in the open or separated from your squad when shots come in. This will give you a chance to identify the source of the attack, replenish your shields and decide if you want to run or strike back. Besides, when using the Dome of Protection, be extremely conservative with the cooldown at all times.If you're about to engage the enemy, it's essential that you have this available - if you popped it needlessly a moment before then you're really going to regret it.
Last, Defensive Bombardment is a highly versatile ultimate. You can use it in many different ways. For example, you can drop it at the beginning of a fight to turn the battlefield into a disaster area. Another use is to drop it on enemies you've knocked down: If you've got a teammate down, try throwing the Defensive Bombardment on their location, then running in and dropping a Dome Shield. Mortars will keep anyone from charging you. Just note that you can take damage from your own bombardments, but your squadmates will be immune to it.