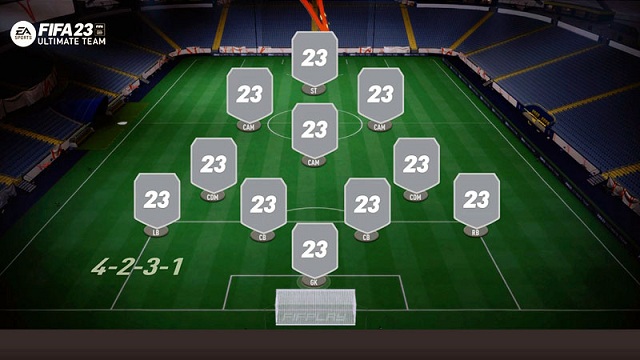 When players playing matches in FIFA 23, they are willing to set the formation of team in advance. While, there are different kinds of formations for teams in FIFA 23. Do you want to know common and effective formation for your team in FIFA 23? We are going to tell you how to set the 4231 formation for your team in FIFA 23. You can know more information about 4231 formation. Players can get
Cheap FUT 23 Coins
to gather good players and build the best team in FIFA 23 Ultimate Team mode.
The Popular 4231 Formation in Modern Football
As football has evolved over time, so has the need for more dynamic players and formations that can cater to several roles at once and ensure that no player is one-dimensional in their efforts to contribute to the team's success. Such is the case with the 4-2-3-1 formation, which overloads the attack with numerous players to catch the defense off-guard without sacrificing defensive stability in the process... even if towing this fine line can be pretty tricky at times.
A team that knows this formation and their teammates inside out will find a ton of things to enjoy about this experience, making the 4-2-3-1 a great formation to score goals and entertain the audience. However, the formation is entirely dependent on a double pivot that serves as a link between attack and defense, and a team can be put in a tough spot if this double pivot isn't effective or is constantly hounded and pressured by the opposition.
How to Set 4231 Formation for Your Team in FIFA 23
Player instructions
Left-back: Stay back while attacking
Right-back: Stay back while attacking
CDMs: Cover center on both, Stay back while attacking on one, Balanced on the other
CAM: Stay forward, Get into the box for crosses
ST: Stay forward, Get in behind
Defensive tactics
Defensive Style: Balanced
Width: 35
Depth: 55
Offensive tactics
Build Up Play: Direct Passing
Chance Creation: Forward Runs
Width: 40
Players In Box: 70
Corners and Free Kicks: 2 bars
How to Play FIFA 23 4231 Formation
FIFA 23 4231 on balanced for defense 45 for width 60 for depth, the offense is on slow build-up, direct passing 45 for width 6 for players in the Box one for Corners one for free kicks instructions for how this team performs in-game is going to be two different things. FIFA 23 4-2-3-1(2) defense style is balanced, width and depth are 50, and the offense is on balanced, 50 for width and 5 for players in the box.
So stay back while attacking and step up or both of the full-backs for the goalkeepers. So your CDMs, they're only on deep-lying playmaker right, so with them being on the deep-lying playmaker, the types of players, you're going to want to use in those positions as well.
The cam is going to be on the comeback and the fence stays on the edge of the box of the Cross which helps out with a slow build-up. Obviously, with him being on the edge of the box, it kind of allows you to build the play a little bit differently the right mid and the left mid are actually going to be on comeback and defense cut inside right, so the cut and side part is going to be a very key thing to work with because keeping these players in those side positions when you're building up the attack for how FIFA plays out nowadays.
If players are interested in the 4231 formation in FIFA 23, you can follow the guidance and set it according to your team players in the game. And you can also
Buy FIFA 23 Coins
to replace good players in important positions on the court.