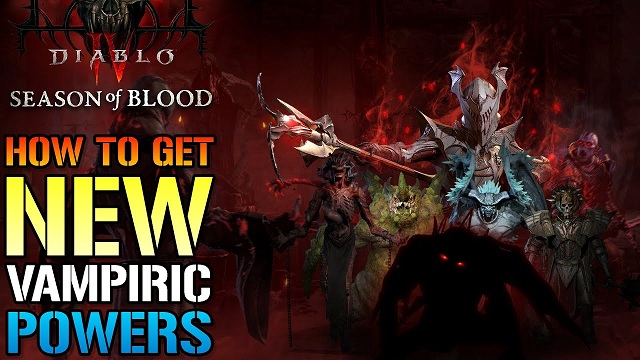 In the latest Season 2 of Diablo 4, it introduces new skills and effects called Vampiric Powers, which can be unlocked for your character by equipping certain Pact Armor. Do you want to know how to unlock Vampiric Powers in Diablo IV? Players can get
Cheap D4 Gold
to level up character quickly in Diablo 4.
What are Vampiric Powers in Diablo IV?
Vampiric Powers are the Seasonal "Power System" for Diablo 4's second season, the Season of Blood. They offer additional character power beyond your Skill Tree and Paragon Boards, similar to the Malignant Hearts of the previous season.
In total, there are 22 Vampiric Powers, separated into Minor Powers and Major Powers. None of these effects are class-specific, so you can mix and match them to your build's needs.
You'll acquire most of these directly from the Sanguine Circle, but others are locked behind the Seasonal Storyline and Hunters' Acclaim rewards.
How to Unlock Vampiric Powers in Diablo IV
Around 22 Vampiric Powers are available to unlock through the Potent Blood currency introduced in Diablo 4's Season 2 content. You are also able to gain the vampire inspired abilities by meeting Reputation goals during Blood Harvest Events from the Hunter's Acclaim or from quest rewards in the Season of Blood campaign. You may have five Powers equipped at a time through the Sanguine Circle in your character menu.
You may notice there are three different symbols called Pacts above the Powers within the Sanguine Circle. In order to use unlocked Vampiric skills, you need to have a number of Pacts from each category depending on the strength of the Power. For example, a Level 1 Power might demand a few Pacts, while a Level 3 ability will demand several Pacts of every type before you can use a Vampiric trait in Diablo 4.
How to Use Vampiric Powers in Diablo IV
Now that you have some Vampiric Powers, it's time to put them to use. Drag any unlocked Vampiric Power into an empty slot to socket the power. You'll notice that the numbers at the top of the UI will start to change. These symbols and numbers refer to your Pact energy, a resource that rolls on all armor pieces this season.
You'll need a Pact value that matches or exceeds the socketed Vampiric Power for it to take effect. For example, if a power requires three Pact skulls, you'll need a total of three skulls across all armor pieces for that Vampiric Power to trigger in combat. Assuming you have enough Pact energy, the Vampiric Power will activate whenever its listed condition is met—for example, using a Basic Skill or losing a certain percentage of HP. Think of these powers as supercharged Legendary Aspects rather than entirely new powers for your hotbar.
Pacts in Diablo IV
During the Diablo 4 season 2, helms, chest armors, gloves, pants, and boots come with a new attribute: Pacts. There are three different types: Ferocity, Eternity, and Divinity. A piece of gear can come with more than one of these.
Pacts are used to activate Vampiric Powers, making these new attributes a core mechanic in season 2. Depending on the powers you want to use, you must look for pieces that have the quantity of Pacts you need. While you inevitably earn gear with the Pacts necessary for your build, there are a few methods to depend less on random numbers.
By completing dungeons and opening Seeker's Caches in Blood Harvest areas, you can find seasonal consumables called the Pact of Ferocity, Pact of Eternity, or Pact of Divinity, which allow you to add one point of a specific Pact to a piece of gear. In case luck is not on your side, you can craft these three items by talking to Alchemists. Each of them costs 250 Potent Blood.
You can read this guidance to know how to unlock Vampiric Powers in Diablo IV. And you can also
Buy Diablo 4 Gold
to get good gears or items for characters in Season 2 game shop.