The first wave of Gen 4 Pokemon
arrived in Pokemon Go early last month, featuring a huge number of cute little creatures for players to catch.
Pokémon Go's Gen 4 will offer 107 new Pokémon
, the second largest addition of new creatures to the game since its summer 2016 debut.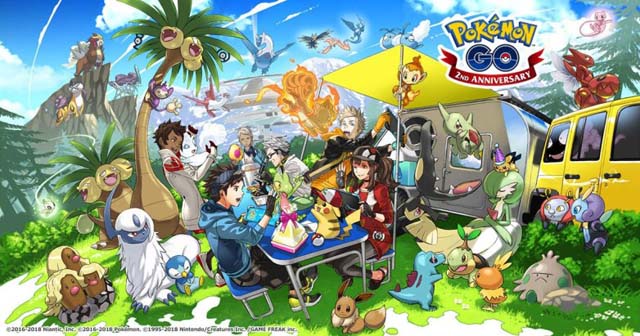 As the franchise's fourth generation of games - Pokémon Diamond, Pearl and Platinum, unlike Gen 3, many current Pokémon get all-new evolutions in Gen 4. Some are powerful. Others are just plain cool. In addition, since its release, the game developer Niantic has been gradually introducing more monsters originally from the Sinnoh region. Moreover, during this third annual Halloween event,
another bunch of new Ghost- and Dark-type Pokemon were added
. Here are the current Pokémon you want to catch and hatch now, so you have enough candy for the new Gen 4 evolutions next. By the way, you can buy
Cheap Pokemon Quest PM Tickets
from
rvgm.com
, a trustworthy, cheap online in-game currency store.
While Pokemon from the Sinnoh region are now arriving in the world of Pokemon Go, that doesn' t mean all of Gen 4' s Pokemon are hitting the game at once. Instead, as always with Pokemon Go, Gen 4 is rolling out in stages. That means over time more and more Gen 4 Pokemon will appear in Pokemon Go and as of now (18 October 2018), there are 26 total Sinnoh region Pokemon available out in the world of Pokemon Go. You can
check the following video so you know who they are.
Gen 4 was notable for introducing a variety of new evolutions for older Pokemon such as Electabuzz, Magmar, and Rhydon, and now a number of these have been added to Pokemon Go. You're able to obtain Electivire, Magmortar, Rhyperior, Togekiss, Weavile, Porygon-Z, and several other new Pokemon if you have their previous forms and the requisite number of Candies. All of these new evolutions take 100 candies, and in the case of third-tier evolutions, the previous tier has been reduced to 25 candies. That's not all they'll take, however. They also require a special item called a Sinnoh Stone, which has just gone up to being the rarest item in the game. So far the only way to get them appears to be through the 7-day field research breakthrough. That means it's going to take a long time to collect all of these.
From now until November 27, Niantic is holding the Hatchathon event, which gives you a chance to hatch Rhyhorn, Magby, Porygon, and other Pokemon that have evolved forms first introduced in the Gen 4 games from 2 km Eggs. On top of that, you'll be able to hatch a Shiny Elekid if you're lucky.
The Pokemon series' next console titles, Let's Go Pikachu and Let's Go Eevee, release for Nintendo Switch on November 16. Both of them have not much difference in the gameplay. You can choose based on your preferred creatures. Since there's a pair feature connectivity with Pokemon Go, you're able to transfer any Gen 1 Pokemon from the mobile game over to the Switch titles. Doing so will reward you with the Mystery Box, which is the key to catching the new Mythical Pokemon Meltan. For more news and guides on Pokemon Go, keep an eye on our website:
rvgm.com
.