With the addition of
Sinnoh-region Pokémon in Pokémon Go
comes new evolutions for 11 existing Pokémon. In order to evolve those Pokémon to their fourth-gen forms, you' ll need a bunch of candy and an item added to Pokémon Go in November:
Sinnoh Stones, a new addition to Pokemon Go for evolving classic Pokemon into their new 4th generation evolutions.
Pokemon Go is no stranger to evolution through items, since we've already seen such evolution items as the Sun Stone, King' s Rock and Metal Coat items in the prious game. However, unlike those evolution materials, you can't just earn Sinnoh Stones by spinning PokéStops.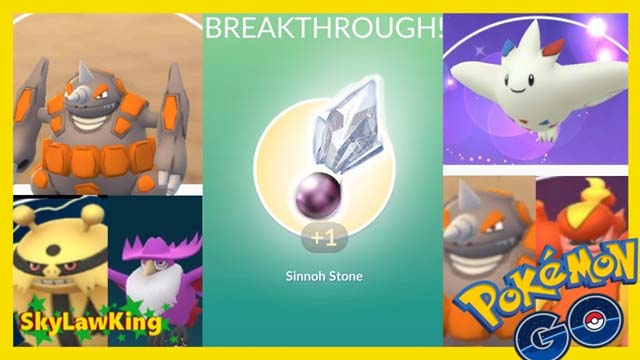 How to get Sinnoh Stones in Pokemon Go
The Sinnoh Stone is an all-new item in Pokemon Go, though mercifully it' s obtained in a set, reliable way – and unlike other evolution stones, you don't have to rely on the random chance that it will crop up as a field research mission reward or drop from a Pokestop.
In order to get your hands on a Sinnoh Stone, you simply need to complete seven days worth of Field Research rewards. It doesn't matter what missions you' re actually undertaking to get there – you simply need to complete seven days worth of quests, a regular goal for trainers anyway in catching that month's limited-run field research Pokemon Encounter. When you do this, a Sinnoh Stone will drop as part of the reward. The Pokemon Go Sinnoh Stone is likely to become available through other means later on, but for now this is the only way to obtain it. The good news is that, according to a Niantic rep and member of The Silph Road community, there will be additional ways to collect those Sinnoh Stones in the future. By the way, you can buy
Cheap Pokemon Quest PM Tickets
from our website:
rvgm.com
, a reliable, cheap online in-game currency store.
Which pokemon evolve using Sinnoah Stones
There are 11 Pokémon from the Kanto, Johto and Hoenn region that have Sinnoh evolutions. You can check the following list for new evolutions. In addition, each new Sinnoh evolution also costs 100 candy, but if you're still catching up on earlier evolutions, the good news is that some basic evolutions now require less candy (down from 50 to 25). And for a limited time, Pokémon with Sinnoh evolutions, including Rhyhorn, Porygon and Magby, will hatch from 2-km Eggs, meaning more Pokémon and/or candy in your pocket.
Budew → Roselia → Roserade
Elekid → Electabuzz → Electivire
Duskull → Dusclops → Dusknoir
Gligar → Gliscor
Magby → Magmar → Magmortar
Misdreavus → Mismagius
Murkrow → Honchkrow
Porygon → Porygon2 → Porygon-Z
Ryhorn → Rhydon → Rhyperior
Sneasel → Weavile
Togepi → Togetic → Togekiss
Other Pokémon expected to use Sinnoh Stone in the near future
In addition to the Pokemon listed above, there's actually a handful of further new Pokemon that also evolve from classics that as-yet are currently unaccounted for in Pokemon Go. It's difficult to fully know what will happen in Pokemon Go for these remaining evolved forms. Some are Eevee Evolutions and so probably won't require stones. The evolutions above have typically required stones or specific methods in the main Pokemon Games. So it remains to be seen if all the remaining evolutions from gen 4 will also require a Pokemon Go Sinnoh Stone.