Raid Boss Updates: Legendary Pokemon Cresselia Is Now Available And How to Get It
Recently, Pokemon trainers can get a Pokemon Meltan by transferring Pokemon from Pokemon Go to Pokemon Let's Go or completing Special Research Quest which sets Meltan as an end award. To keep players interested over the next few months, on November 20, Pokemon Go announced via its website that the
Psychic-type Pokemon Cresselia
will be the game's
next Legendary Raid Boss
. Cresselia will replace Giratina as the game's sole Legendary Raid Boss starting later. So if you plan on taking down the Legendary Pokemon, here are the best guide you should use.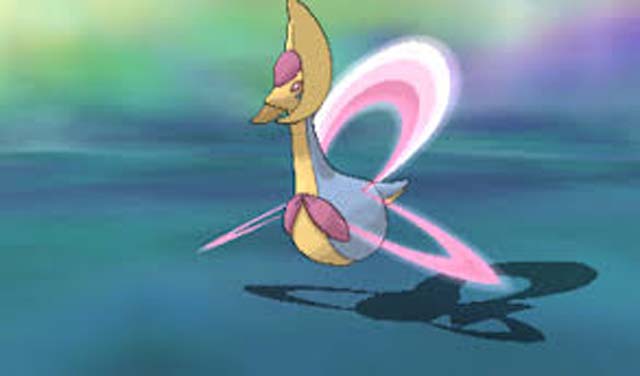 Cresselia is a pure psychic-type Pokemon, known as the "Lunar Pokemon." Not only does its head resemble a pair of crescent moons and has the ability to dispel nightmares. As a Psychic-type Pokemon, Cresselia is weak to Bug-type, Ghost-type, and Dark-type attacks. Gengar, Weavile, Honchkrow, and Tyranitar are all ideal attackers for a Cresselia raid. A Mewtwo with Shadow Ball is also an optimal attacker, provided you got one from an EX Raid. While Cresselia has high Stamina and Defense stats, its Attack stats are low, so don't expect Cresselia to have much of an impact in Pokemon Go's metagame. Basically, this is a pretty Pokemon that will fill a hole in a PokeDex, but won't really do much in high level raids.
To catch a Cresselia, as usual, you'll first need to team up with other players in real life and head to a Gym where a Cresselia Raid is taking place. Once there, you'll be able to challenge the Legendary Pokemon to a battle; if you manage to successfully defeat it, you'll earn a handful of Premier Balls and a chance to capture it. By the way, you can buy
Cheap Pokemon Quest PM Tickets
from
rvgm.com
, a reliable, cheap online in-game currency store.
To beat against Cresselia, the first best counter recommended here is Mewtwo with Psycho Cut and Shadow Ball. Mewtwo has one of the highest attack stats in the game, which means that its Shadow Ball attack will pierce through Cresselia's huge defense and stamina. Not only that, but its psychic-typing makes it resistant against Cresselia's strong psychic-type attacks. Using Psycho Cut over Confusion will generate a higher energy rate and charge Shadow Ball faster. The only problem is that Mewtwo with Shadow Ball is exclusive to EX Raids only. So even if you caught it when it was in regular Raid Battles, it can't learn Shadow Ball. Alternatively, you can use Alakazam with Psycho Cut and Shadow Ball.
The second best attacker is Gengar with Shadow Claw/Lick and Shadow Ball. It's an even stronger ghost-type attacker than Mewtwo according to GamePress because of its massive attack and strong dual ghost-type moves. Compared with the first counter, its secondary poison-typing and low defense and stamina makes it weak to Cresselia's psychic-type attacks. However, that also makes it strong against Cresselia's fairy-type Moonblast move. Keep in mind that Shadow Claw and Lick are both exclusive moves. A Gengar with Hex instead would be weaker but perform just fine. Alternatively, you can use Banette with Shadow Claw and Shadow Ball. Now we're wrapped up with this Cresselia guide, for more on Pokemon Go, keep eye on
rvgm,com
.