Rainbow Six Siege Y4S2 Operation Phantom Sight Expansion Preview: Release Date, New Operator Warden and Nøkk , Kafe Dostoyevsky Map Rework and More
If you get bored with Rainbow Six Siege Operation Horizon, you can look forward to
Rainbow Six Siege Y4S2 Operation Phantom Sight Expansion
. Recently, Ubisoft released new teasers, giving players a early look at what the upcoming season expansion would look like
. The new expansion is titled Operation Phantom Sight. It promises to bring two new operators, a new map in the form of a Kafe rework, and a haul of balancing changes.
With teasers and rumors already brewing, here's everything we know so far about Operation Phantom Sight.
Rainbow Six Siege Phantom Sight Release Date
Although Ubisoft hasn't confirmed officail release date yet, we already have a bearing based on trends.
As with past Rainbow Six expansions, expect a May 19 reveal at the Rainbow Six Siege Pro League Finals in Milan. It should be followed by a May 21 Technical Test Server (TTS) PC arrival, now with three weeks of testing into June. Assuming Ubisoft sticks to this timeline, a June 11 release date could be likely.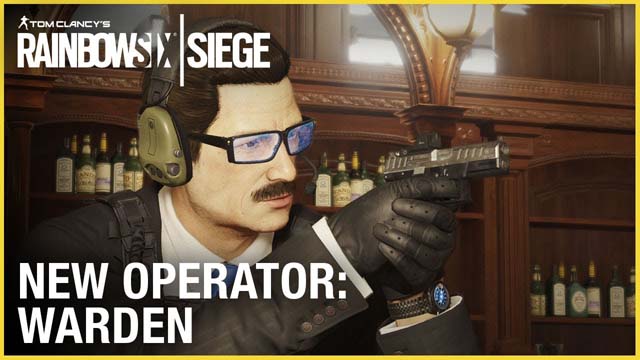 Rainbow Six Siege Phantom Sight New operators – Nøkk and Warden
Ubisoft revealed Nøkk on Wednesday with no specific details on her gameplay, but we do now know a bit about her backstory and what her unique ability is like. You may get some clues from Ubisoft's official description:
"Nøkk has been a mystery for quite some time. There is very little that anyone outside Rainbow knows about her. For an accomplished undercover agent whose work remains mostly unrecorded, it is amazing that she has managed to hold onto who she is at her core."
"Her gadget is just the icing on the cake for an already dangerous operative. The HEL, which she worked on to improve with specialist Grace 'Dokkaebi Nam,' makes Nøkk nothing short of a ghost, and leaves her opponents looking over their shoulders."
As with Warden, The operator also appears to be wearing some sort of eyewear, which was rumored to be the operator's unique ability. Here's what Ubisoft said:
"His tendency to follow his gut and his unshakeable confidence have proved that he is in a league of his own. It's no wonder that he was recommended by high-ranking government officials. Now that he is part of the team, he faces a new challenge: to determine if his skillset and iron will remain unparalleled when faced with specialists of his own caliber."
Phantom Sight Maps – Kafe Rework
After Burnt Horizon's Outback, no new multiplayer maps are planned for Rainbow Six Siege in 2019. Like Operation Grim Sky's Hereford Base, Phantom Sight will instead facilitate Kafe Dostoyevsky map rework.
Other Upcoming Changes
In addition, there are several other changes players can look forward to as detailed by the Y4S2 Designer's Notes: Pre Season blog post.
Glaz's thermal scope rework
D-50 can now be equipped with a muzzle brake or a suppressor
Smoke's FMG-9 can be equipped with a Vortex scope (Mozzie's scope)
Finka's ability will now cleanse the resulting tinnitus, while affected by an explosion
That's all you need to know about Rainbow Six Siege Y4S2 Operation Phantom Sight Expansion. As we will keep the story updated, so stay tuned to
Rvgm.com
. If you wanna buy
Cheap R6 Credits
, you can also visit Rvgm.com.