Pokemon Go December Community Day Is Coming This Weekend, Featuring All The Previous Pokemon
Niantic is planning to hold a grand finale to end their successful 2018 year with the upcoming
December Community Day
, which will be one of the biggest celebrations ever. At the moment, the details of the grand community day have already been shared. The event will
run for two days over this weekend
. So don't miss out. Aside from expanded time window, unlike featuring one special pokemon previously, this time, its special Pokemon is...all the Pokemon. All the past Community Day Pokemon, specifically, which are 11 different types we've seen over the past year. So if you haven't get yourself a Cyndaquil or Squirtle, once again size the rare chance. Now let's dive into all the details of the grand event.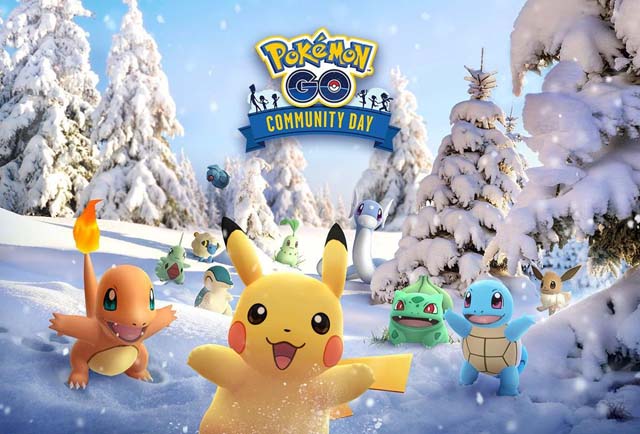 The Featured Pokemon of December Community Day
While each previous Community Day has only starred one featured Pokemon, Niantic is bringing all of them back at the same time for December's. Throughout the entire weekend, you'll be able to find increased spawns of Pikachu, Bulbasaur, Dratini, Beldum, and all of the other featured Pokemon from previous Community Days. The following is a list of all of them:
Pikachu (January)
Dratini (February)
Bulbasaur (March)
Mareep (April)
Charmander (May)
Larivitar (June)
Squirtle (July)
Eevee (August)
Chikorita (September)
Beldum (October)
Cyndaquil (November)
Among those pokemon, for most pokemon trainers, the most popular, useful Pokemon that you might want to be hunting for out of all of these would be Beldum and Larvitar, as Metagross and Tyranitar are hugely powerful Pokemon useful in a ton of raid battles. If you don't have much money, you're also going to want to secure yourself a shiny Charmander to evolve into a shiny Charizard, as its one of the best shinies in the game with its black and red coat. The same goes for green Dragonite. By the way, you can buy
Cheap Pokemon Quest PM Tickets
from
rvgm.com
, a reliable, cheap online in-game currency store.
Specific Schedule of December Community Day
The date and time these bonuses will be available will vary depending on what part of the world you live in; you can find the schedule for each region below.
Europe, the Middle East, Africa, India: December 1, 2018, 10 AM - 1 PM UTC
The Americas and Greenland: December 1, 2018, 11 AM - 2 PM PST
Asia-Pacific: December 2, 2018, 12 PM - 3 PM JST
Other Bonus of December Community Day
Like previous community days, Niantic also offers other in-game bonuses this time. So players can expected to see regular big bonuses, double catch XP, double catch Stardust and half distance incubators over this weekend. Additionally, special bonuses will be available for just three hours in each region, and these Pokemon will also have the special, unique moves they had in their past Community Day windows. The biggest bonus is that will be able to hopefully catch a number of Pokemon where you missed out on their Community Day previously for whatever reason (it's only a 3 hour block after all), or you never got a shiny version over the next two days.