Anyways, having good aim is probably the most desired trait that every Apex Legends player wants. Having good aim involves many factors including muscle memory and reflexes, your movement and positions, your sensitivity and more. To improve your aim, our Rvgm.com madeup this handy guide, covering tips for improving your muscle memory, reflexes, sensitivity, and most importantly, some realistic aiming techniques. Also, if you run out of Apex coins, you can also visit our Rvgm.com for Cheap Apex Legends Coins.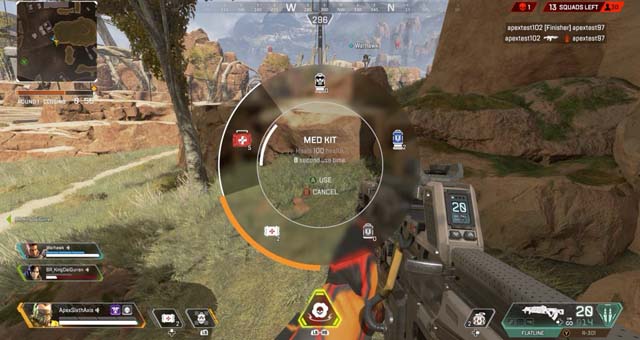 As with muscle memory, reflexes, there's not much to say. All you can do is to keep practicing and training yourself training in the Training Arena or just hopping into a game and play.
The main thing in-game when trying to improve your consistency and aim is your sensitivity. For those of you that do not know what sensitivity is, it refers to how quickly your character looks around in-game. So if you have a high sensitivity (someone who aims primarily with their wrist) you will be able to look around faster than someone with a low sensitivity (who would primarily aim with their arm). That being said how should you find your perfect sensitivity? Well I recommend first figuring out at what sensitivity in game can you move your mouse from one end of your mouse pad to the other and do a complete 180°turn.
You can test this in the training mode and keep lowering your sensitivity till you reach this setting. It may seem too low at first but after a few games you will get use to the feeling of this new sens, keeping this method over all your games which allow you to be consistent and not have to get use to the different settings.
Aim down sight sensitivity is a preference, if you feel like your mouse is too sensitive when aiming at enemies then I recommend turning this down.I have mine set to 0.8 which means that when I aim down, my normal sens of 2.2 (2.2 x 0.8 = 1.76) becomes 1.76 which allows me to be more accurate with my guns.
Additionally, mastering some useful aiming techniques can also increase your rate of successful aim in the game. Listed below are different aim training techniques from online experienced players. Hopefully, they would be helpful for you.
Aim at head height: If you always have your cursor at neck to head height you will always be in a position to land headshots when an enemy appears!
Strafe Aiming: If you are in a 1 on 1 situation with an enemy and are both strafing back and forth, try using your movement to aim as opposed to your mouse.
Do not ADS in close quarters combat: I see this all the time, generally ADSing in close quarters will make the mouse movements that you have to do to track a target accurately, longer and more dramatic, increasing your chances of missing.
Stand still when you are not being shot at: I know many people say standing still is a bad thing, and to be fair it is. But it is okay to stop for a moment and aim without moving to reduce the amount of unnecessary counter aiming.
Focus on landing your shots: Force yourself to pick up a Wingman and aim your shots, your muscle memory will improve faster if you do this instead of "lazy aiming" (Holding "M1" and spraying around a target).
Do not jump as much: Jumping will shake your crosshair a little bit making your aim totally unpredictable and give your opponents a very easy predictable target to shoot at.