Lucky Pokemon
are a special form of Pokemon introduced in Pokemon GO in July 2018. They provide the best way to get the strongest Pokemon on the game thanks to their beneficial status stats-wise. As a result you should go out your way to get as many as possible.
Here's how to go about finding them in Pokemon Go
.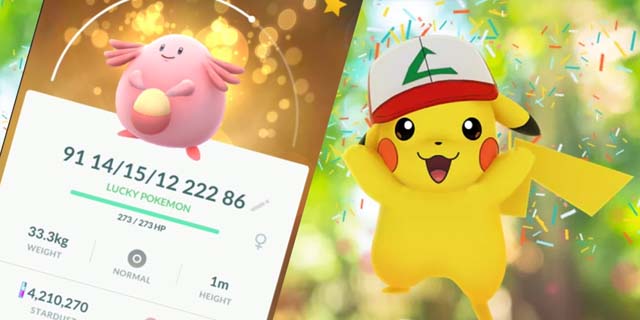 What are Lucky Pokémon in Pokémon Go?
Lucky Pokemon behave and look like normal Pokemon but have one vital difference - they cost half the Stardust to power them up in comparison. Lucky Pokemon require 50% less Stardust to power up, making them easy to boost the CP of and ready for battle. Stardust is one of the rarer, more difficult to grind resources in the game. Stardust in any large quantity is hard to come by, so if you're a competitive player who wants to get Pokemon to the maximum level of 40, obtaining Lucky Pokemon is essential. In addition, Lucky Pokemon will have good stats behind-the-scenes – typically an "IV" stat of around 80%, where 100% is a "perfect" Pokemon. Stats change when a Pokemon becomes Lucky, so this is actually a great way to turn a previously rubbish Pokemon into a really powerful one.
How to Get Lucky Pokemon in Pokemon Go?
Trainers can get lucky pokemon via trading. When you perform a Pokemon Trade with another player on your friends list, there's a chance that the Pokemon traded in both directions will become lucky Pokemon.
There's a further wrinkle to this: the longer a Pokémon has been sitting in a Trainer's storage, the higher the likelihood of it transforming into a Lucky version upon being traded. So, to increase your chances of getting a Lucky Pokémon in Pokémon GO, your best bet is to convince a friend to trade one of their Pokémon that they've held onto for a long time. They may ask you for the same, so be ready to dust off one of your older Pokémon that you've had stored up for a while to trade with them in return.
Lucky Friends
In April 2019, Niantic introduced the Pokemon Go lucky friends feature. If you are best friends with another trainer, each time you interact, you have a chance of becoming lucky friends.Becoming lucky friends guarantees your next trade to result in lucky Pokemon for the both of you.
Once you have obtained a Lucky Pokémon, it will be tracked by your Pokédex, where you can view its capture rate and encounter statistics.
How to Get Lucky Friends in Pokemon Go?
There is a chance of being Lucky Friends when you are Best Friends with someone.
You have attempt per day at becoming Lucky Friends by performing one of the following actions - opening a gift, teaming up in Raids or Gym battles, or engaging in a Trainer Battle (essentially, anything that would usually result in leveling up your Friendship).
That's all with this pokemon go guide. With this guide, you will soon get yourself a lucky pokemon. And if you need to upgrade your Pokemon Bag or Storage from Pokestops and run out of coins, you can come to
Rvgm.com
for
Cheap Pokemon Go Coins
. Our items are definitely safe and our delivery are much faster than other sellers.