If you are a new player to this series, it can be a very daunting task to figure out how to perform some of the various complex moves that you see in the YouTube videos and trailers of the game.
This NBA 2K19 Alley Oop Tutorial will show you how to perform Alley Oop in NBA 2K19
. And if you are in need of
Cheap NBA 2K19 VC
, you can also visit our website.The Alley Oop is one of the best moves in basketball. Setting up a successful alley-oop in NBA 2K19 takes a couple of different things as well as input from the player to make it happen. Here's what you need to know to alley oop in NBA 2K19.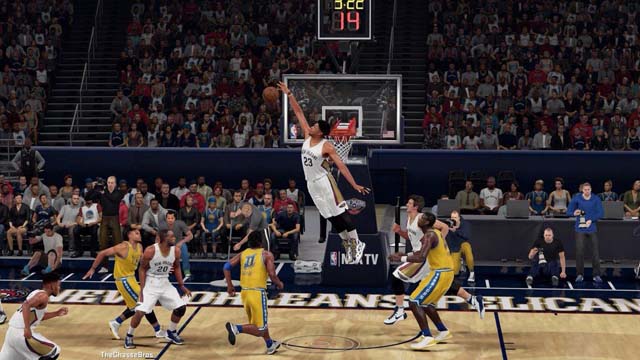 NBA 2k19 Alley Oop
The Alley Oop is one of the most spectacular plays you can perform in basketball. One player makes a pass, the other receives in the air, and in suspension, crushes the basket. And dunk in this way in NBA 2k19 can become much easier than in reality. This should only be done when there is ample space between you and the defenders.
Controls of Alley Oop in NBA 2k19
The combination of buttons remains the same, although when doing it you must indicate the direction with the left joystick. That is, you must point to the receiver, where you want to give assistance:
PS4: Triangle + Triangle
Xbox One: Y + Y
When To Do Alley Oop in NBA 2k19?
The obvious lob-city scenarios
One common use of Alley Oops is to use it in obvious lob-city scenarios. When you're on a 2-on-1 fast break and your teammate without the ball is a high-flier. Their one defender can't close you down and mark the player you're about to set up with the alley oop, so you're almost guaranteed to get yourself two point. Just make sure your teammate is actually driving towards the basket, otherwise, they won't receive the alley oop.
Using advanced lobs to score in the half court
The pick-and-roll is easily the most effective play in basketball, and you can use it in a variety of ways in NBA 2K19 and the lob pass is one of them. You can
check the vide
o to see how to do it.
Note that you have to have a point guard or original passer that is athletic enough to slam it home in this scenario. If not, your original passer will just attempt to lay the ball up, which is much easier to block.
Alley Oop in NBA 2k19 - Variants
There are two very similar but different moves:
Alley Oop
To throw an Oop, you aim the left stick towards who you want to throw the pass to. Next, double tap Y or Triangle. You want to throw it right before the player is under the hoop.
Self Alley-Oop
Now, to throw an Oop to yourself, make sure your driving towards the hoop. Then, double tap Y or Triangle.. Just like the regular alley-oop, make sure you have a clear lane to do it. Look for this on fast breaks or if you're up by like 50.
There you know how to Ally Oop in NBA 2K19. For more news and guides on NBA 2K19, stay tuned to
Rvgm.com
.