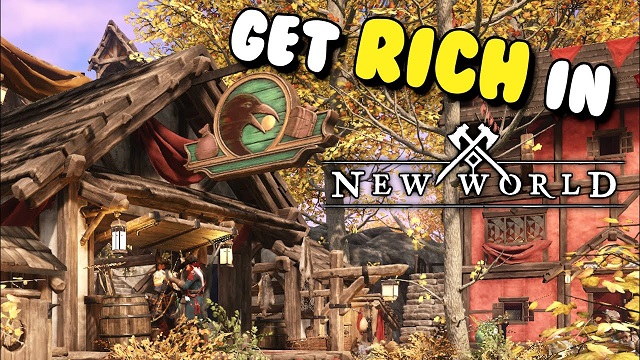 What is the fastest way to make money in the new world? If you want to find answer concerning on this question, then you are at the right place!
Complete Quests
Like any other RPG, MMORPG, carrying on story quests, side quests not only progress further you into the game but also unlocks new skills, abilities, as well as more money. Hence, carry on with all the quests, Town project missions, Faction missions. You'll get stronger as well as richer with all those Gold you'll end up with. Although money will be less available at the early stages of the game; don't be hopeless. If you're playing as a gatherer build, then you'll unlock the ability to harvest rarer resources that can furthermore be sold for a high price or used for crafting.
Sell Raw Resources
In any settlement, you can find Auction Houses called Trading Posts. Use the Trading Post, and select "All Settlement" -> Raw Resources. This will show you which Trading Posts buy low and sell high. This takes some travelling — you'll need to physically travel to the other Trading Posts, buy the resources cheaply from one, then transport to another Trading Post to sell the resources for a profit.
The Steel and Starmetal tools require you to reach levels 50 and 100 in Engineering respectively if you want to craft them, and Powerful potions require you to level up Arcana. These will take some time, but if you're able to reach those levels fast enough to craft those items, you can sell them on in the trading posts in all the different regions to make money.
If you've got a higher rank in this build, you can easily get some pretty top-tier resources and sell them. This will return doubles and triples when in demand. Wait for a while to see if any particular resources are in demand before you sell them.
Expeditions
Expeditions are another great way to earn money, specifically through taking their repeatable side quest. Outside the entry to Amirine Excavation, you can get a mission from the dog Barkimedes, which will provide great EXP and gold. The enemies inside Expeditions provide gold too.
Crafting bags
While the game is still in its early days, you should also craft a stack of bags. Bags are a player's only means of expanding inventory space, which means everyone wants them. If you've got bags or the materials to make them, you've got a veritable gold mine in your pockets, at least until the market reaches oversaturation and everyone has a bag.
There are many tiers of bags, as well, with each subsequent level requiring harder-to-obtain materials. Head on over to the Outfitting Station in any major settlement, and search for bags. Look up the materials you'll need to make them, and you can expect there to be some demand for those particular items on the market. You can also check our guide on the Rune of Holding to learn how that item works.
Finally, you can choose to buy
New World Coins
via the secure store rvgm.com, where can offer you the products with cheap price, safe and fast delivery!