NBA 2K24 Playmaking Badges Guide: How to Select the Best Playmaking Badges in NBA 2K24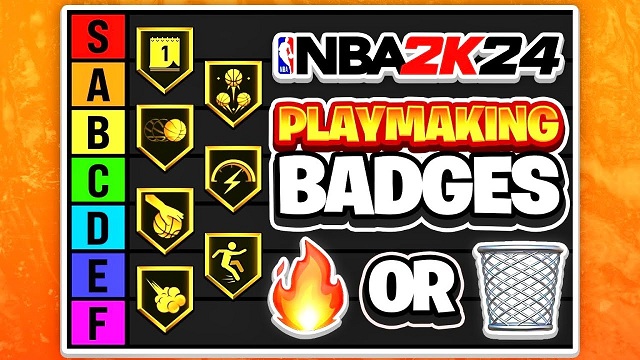 In NBA 2K24, many players want to build the best player in MyCareer mode. So, they are curious of different types of badges for players in NBA 2K24. Like, the Playmaking Badges, which are all about controlling the game's tempo, setting up teammates, and creating scoring opportunities. Do you want to know how to select the best Playmaking badges in NBA 2K24? Players can get
Cheap NBA 2K24 VC
to build the best NBA 2K24 player in the game.
How to Select the Best Playmaking Badges in NBA 2K24
Best playmaking badges in 2K24
Playmaking is all about creating opportunities, and these top badges are the cream of the crop.
Ankle Breaker: When performing stepbacks and other certain moves, the defender stumbles or falls more frequently when biting the wrong way.
Blow By (New): Quicker ball-handlers receive boosts in body-up interactions with defenders when Blow-By is equipped.
Hyperdrive: Increases the speed at which a player can perform moving dribble moves as the attack down the court.
Speed Booster (New): A perimeter-only quick first step badge, Speed Booster will allow for quicker launches when coming from a stand-still dribble situation.
Unpluckable: Defenders have a tougher time poking the ball free with their steal attempts.
Dimer
When the time comes, you'll want your shooters to be cold-blooded and make those buckets. As much as they will be responsible for their shots, the way they receive a pass will also play a crucial role.
The Dimer Badge is essentially a boost for shooters. In a half-court setting, passes by Dimers to open shooters increase the latter's success rate, allowing them to have an easier time swishing wide-open opportunities.
Floor General
The Floor General badge quite literally makes your rule on the court inevitable. This badge will boost all the offensive aspects of your team and make you unstoppable from scoring goals.
Do note that the Floor General badge won't necessarily score points for you but it can be a huge upgrade for your teammates.
Handles for Days
If you are looking to fool the defense with your dribble skills, you need the Handles for Days badge. It limits your stamina consumption while dribbling to let you dribble longer.
That extra stamina can prove to be vital throughout a game, which is why Handles for Days is one of the best playmaking badges you can get in NBA 2K24.
Break Starter
The Break Starter badge is a game-changer for players who love to initiate fast breaks. When you grab a defensive rebound, this badge enhances the accuracy of your outlet passes, making it easier to kick-start a fast break. It's particularly useful for big men who can rebound and pass well, turning defense into offense in a split second.
Badge Requirement: Pass Accuracy 68 (Bronze), 75 (Silver), 86 (Gold), 92 (Hall of Fame)
Relay Passer (NEW)
The Relay Passer badge is designed for players who excel in ball movement and creating open shots for teammates. When you make a pass that leads to an assist, this badge boosts the shooting ability of the receiver. It's perfect for point guards and wings who focus on playmaking and setting up their teammates.
Badge Requirement: Pass Accuracy 60 (Bronze), 76 (Silver), 89 (Gold), 95 (Hall of Fame)
Players can select these mentioned Playmaking badges to build your player in NBA 2K24 MyCareer mode. And you can also
Buy NBA 2K24 VC
to level up levels of badges quickly in the game.