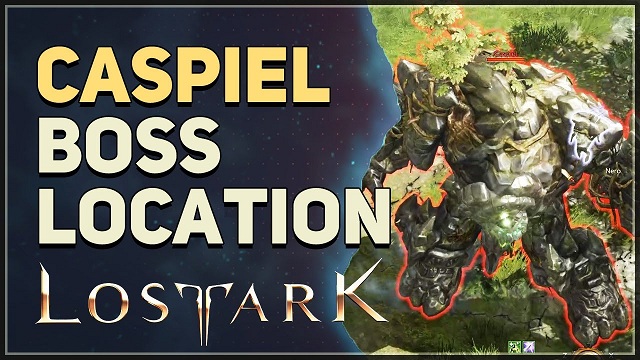 In order to get good rewards in Lost Ark, players are eager to find the hidden bosses around the world. Players can complete the quests associated with these hidden bosses and defeat them for the rewards. One of these hidden bosses is Caspiel Boss. If players want to get good items from him, the first thing is to find the location of Caspiel Boss in Lost Ark. Players can learn guidance from looking through this article. What's more, players who are fond of exploring the Abyss Dungeons need to carry necessary potions in advance, which can by purchasing by using
Cheap Lost Ark Gold
in Lost Ark.
Where to Find Caspiel Boss in Lost Ark
Caspiel is located on the eastern side of the center of Skyreach Steppe. It is surrounded by trees and rocks. This area is full of fighting monsters that shouldn't bother you if you don't bother them. Caspiel cannot be defeated easily and has 1,967,454 hit points and 23 hit bars.
World bosses are usually best taken in groups. Caspiel's attacks are relatively easy to dodge because he is slow. Other monsters will attack him if he encounters them. If you're under level 40, you'll die after a few hits from Caspiel's attacks, so the best strategy is to hang around and let everyone else do the work.
Caspiel is a world boss in Lost Ark and is found in Rocky Forest Hill in the region of Skyreach Steppe, Tortoyke. The area surrounding Caspiel is filled with monsters, but they won't aggro until you attack them, so you can simply ignore them when focusing on the boss.
Caspiel is a world boss and there is of course a respawn time linked with the boss. After Caspiel has been eliminated, players will have to wait another 30 minutes until battling Caspiel again once they spawn. In turn, it is great to prepare for the battle by getting to the location early in order to ensure battling Caspiel the moment they spawn if you know a lot of players will be surrounding the area.
How to Defeat Caspiel Boss in Lost Ark
Caspiel is not a very difficult boss - he's very slow. He sometimes will move from one place to another, though, so long-lasting attacks can make dealing damage difficult. The best moment for a longer attack is when the boss rolls over on his back to perform an attack on his own - it'll be a while until he stands back up again. His other attacks are punches and charge. You can expect some minor enemies to join the fight - there won't be many of them.
As for most of the world bosses, the best strategy to approach them is in a group. Soloing these bosses can be difficult as they have huge health bars. Approaching Caspiel at level 40 will result you dying to him in 3-4 attacks, so we recommend coming for the boss after at least level 45 and bringing a healer.
Caspiel is slow and you can avoid his attack if you don't get too greedy. In one of his attacks, Caspiel will roll over on his back. This is the best moment to use your strongest attacks as he will get back on his feet after some time and you can guarantee almost any attack you throw at him.
If players expect to have a good performance in the fighting against Caspiel Boss, you need to
Buy Lost Ark Gold
to upgrade the levels of weapons. These high level weapons will make huge damage towards bosses in battle, which will save your time on questing in Lost Ark.