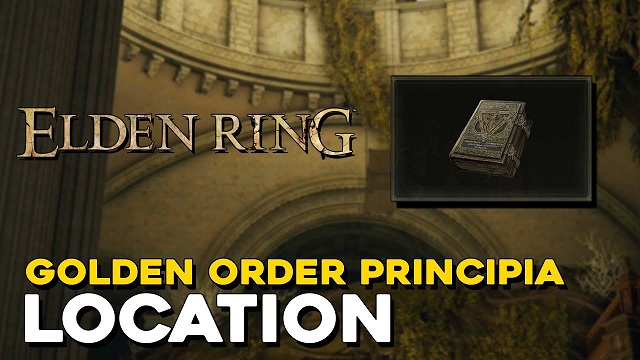 When it comes to Prayerbook in Elden Ring, players can use this item to unlock specific Incantations. You can use the Golden Order Principia Prayerbook to unlock two useful Golden Order Incantations for endgame contents. However, the location of the Golden Order Principia is not easy to find in Elden Ring. Players need to find some hidden quests and complete them to get the clues of this prayerbook. You can get the guidance about it from reading this article. Moreover, it is good for players to buy
Cheap Elden Ring Runes
to unlock some useful items in advance, they may help you a lot in the later stage of Elden Ring.
How to Find the Golden Order Principia in Elden Ring
The Golden Order Principia contains two Incantations that you can learn, which are Radagon's Rings of Light and Law of Regression. The first one is an offensive spell which throws large rings of light at your enemies, and can deal a lot of damage. The Law of Regression is a healing Incantation that allows you to heal all effects that are dragging your vitals down.
Radagon's Rings of Light allows Elden Ring players to conjure a holy ring that expands outwards, dealing holy damage to enemies caught within its wide range. Law of Regression, on the other hand, removes all negative status effects, dispels special effects, and reveals all forms of mimicry. Unlike most Incantations in Elden Ring, which only require high enough Faith to cast, Radagon's Rings of Light requires 31 Faith and Intelligence, and Law of Regression requires 37 Intelligence.
While you might just want to forge ahead, as you come to the area in the image above where you see the chair hanging from the ceiling you're going to want to head out of the door due north, but instead of following the path you're going to want to hook and immediate left. From here you' ll drop down on the rooftop and then head up to the windows of the building and hop in. You' ll find tree branch that was blocking your way in the other room now available to climb. Walk up the branch towards the item and once you get close you can simply grab it and it's yours for the taking.
To obtain this prayerbook, you will first need to get into the capital city in Altus Plateau. This is done by obtaining at least two Great Runes and defeating the Draconic Tree Sentinel boss. You can obtain Great Runes from Rykard, Godrick, and Radahn to allow you to access the capital city. Once you get into the city, you will need to make your way down to the main road and over to the dragon's wing. Climb the dragon's wing and then the tree roots to gain access to Godfrey's boss room.
The Golden Order Principia can be found on a chair hanging from the ceiling in Elden Ring's Erdtree Sanctuary. To reach it, players will have to climb the roots just outside the Sanctuary's entrance, which will lead them to a wooden balcony inside the Sanctuary. From here, players will have to go back outside and jump down onto the golden roof to the left. There's a window that can be jumped through leading back inside the Sanctuary. There's another root immediately to the left that will take players straight to the hanging chair so they can pick up the Golden Order Principia.
If players want to unlock more items or Incantations in Elden Ring, you need to pay attention to the surroundings of hidden areas. There are a lot of clues for players to collect for unlocking the specific items. If players are lack of suitable weapons in the game, you can
Buy Elden Ring Runes
to equip the best ranged weapons for characters, which help you kill a large amount of foes in one time.