Launch on August 27, 2019, everything you should know about World of Warcraft Classic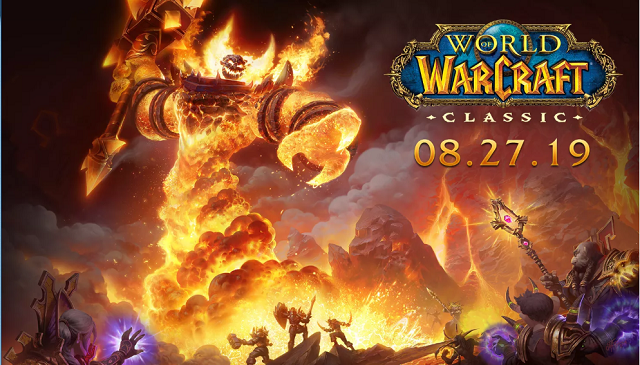 There is only 10 days left since the release of World of Warcraft Classic, it is the best time for you to make a comprehensive understanding of this gameplay. In this article, we have list everything you should know about WOW Classic before playing.
What is World of Warcraft: Classic?
WoW: Classic takes the open-world fantasy MMORPG back to the days before the expansions, so everything from The Burning Crusade to the Battle for Azeroth never happened. It won't be the Day 1 version necessarily, as the company is using Patch 1.12: Drums of War to build the game back up.
How much does WoW Classic cost?
The price of WoW Classic is simply the price of a WoW subscription. No additional purchase required—you don't need to go out hunting for an original boxed copy of World of Warcraft. Those who already subscribe to WoW will have WoW Classic included in the price of their subscription. Those who don't actively play WoW will have to sign up to pay the usual $15 USD a month to play it.
How it's different from modern WoW
First of all, it will act as a completely different game as far as content goes — it's not linked to live game data. The extra bag slots from having an authenticator are exclusive to the modern game and any progress you make in WoW Classic won't transfer over to modern WoW. Most notably, it will be missing a lot of the quality of life changes that we have gotten used to over the years. This means that there is no flying, no transmog, no AOE loot, no map objectives or quest directions, no Dungeon Finder, no Raid Finder, no dual specs, no reagent bank, no instant mail, no mob tagging, no achievements, no account-wide anything.
Will World of Warcraft Classic get updates and expansions?
World of Warcraft Classic will indeed be getting updates to roll out newer features over time, though it's not yet clear if it'll be getting full-on expansion add-ons. Blizzard will be keeping an ear to the community to see just how far the resurrection of Vanilla game will go. But the consensus seems to be that fans would be happy to see the game reach its third, hugely popular expansion pack, Wrath of the Lich King.
You can Already Choose Your Name:
If you want to hit the ground running and make sure nobody steals the name you used way back when, you can already get going on that process.
Players who choose to use a PvP server can only create roles for the same faction. For example, if you create a federation role, all subsequent roles created on that server can only be federated.