Apex Legends Ranked Leagues
is finally here, giving players the chance to play competitively in the battle royale title. what is Ranked Mode, and how does it work?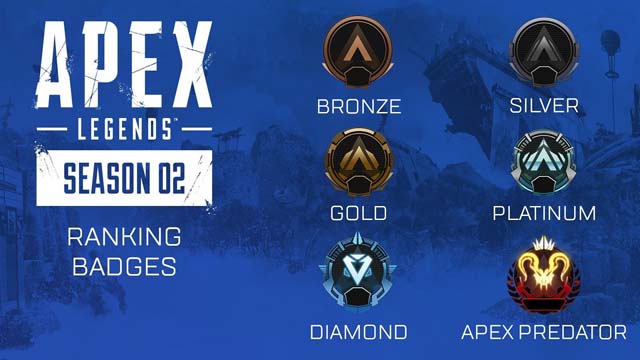 Similar to the ranking system that governs online play in other competitive, team-based video games, like Overwatch and League of Legends, in Ranked Leagues, players will queue up for the game-mode and be placed in a match with 59 others of similar skill rating. This is in contrast to standard matchmaking, which can group together players of vastly different experiences levels.
How the Apex Legends Ranked Leagues Work?
Here's how the first Ranked Series will work:
Series and resets
Ranked Leagues run in competitive periods that's called "Series". The first is scheduled to run for the duration of Season 2 (July through September). Future Ranked Series may not be in sync with the larger Apex Seasons as the developer may need more time for players to settle on their true skill level.
Ranks
Ranked Leagues features six competitive tiers: Bronze, Silver, Gold, Platinum, Diamond, and Apex Predator. All of the tiers except Apex Predator have four divisions; Gold IV, Gold III, Gold II, and Gold I, for example, with Gold I being the top division in Gold tier. All players will start in Bronze IV for the launch of Ranked Leagues, but future Series should have a starting placement if you've climbed the ladder in previous Series.
Scoring
Players climb the ladder using a set scoring system, and the developer has tried to keep the system transparent so you can focus on what it takes to rank up. Scores are tracked via Ranked Points (RP) and your score moves up and down throughout the season.
Each Ranked match will cost RP to play based on your tier:
Bronze matches are free
Silver matches cost 1RP
Gold matches cost 2RP
Platinum matches cost 3RP
Diamond matches cost 4RP
Apex Predator matches cost 5RP
During the match you earn RP based on performance. Kills are worth 1RP up to a maximum of 5RP per match. Placing Top 10 is worth 2RP, Top 5 is 4RP, Top 3 earns 7RP, and a win will bank 12RP. Each placement score is exclusive, so if you finish in the Top 5, you won't earn 6RP for a Top 10 and Top 5 finish combined. That means the maximum score you can earn per match is 17RP, before the match entry fee.
Playing with Friends
Ranked Leagues will require each player to be level 10 or higher to join. When you queue up with other friends in your lobby, the matchmaker will find a match for the highest ranked player in that lobby, but each player will pay the appropriate match cost for their current rank.so, if you queue up with your Diamond II friend as a Bronze III player, get ready for a difficult match!
Moving Up the Ranked League Ladder
For the launch of Ranked Leagues, everyone start in Bronze, and as you score you climb and fall within a tier. There is currently no demotion if you drop into a lower tier, so if you earn your way into Platinum IV, no amount of losses will demote you back to Gold I – you are guaranteed to finish that Series in Platinum. However, demotion is possible between divisions, so if you're Gold II and fall below 380 RP, you will move back down to Gold III.
Matches become more difficult the higher you climb, so players need to hone their skills to rank up higher.
Rewards
Everyone loves a good reward and for this reason, players that take part in Ranked Leagues during Season 2 will be awarded Series 1 rank badges based on the tier they reach by the end of the Series.
Apex Legends Season 2 is officially live now, and aside from ranked mode, there'll be a new Battle Pass and challenges, weapon and map changes, and a new character, Wattson.
Stay tuned with
Rvgm.com
, a professional online in-game currency store for purchasing
Cheap Apex Legends Coins
.