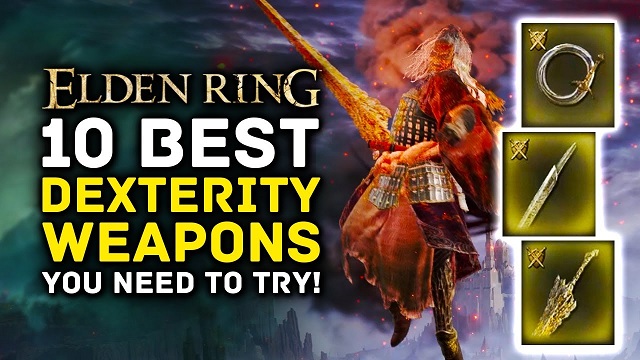 In the world of Elden Ring, players have access to build different kinds of characters based on various weapons or stats. For players who want to build a fast-paced, high-damage character, they need dexterity weapons in the game. Do you want to know the best dexterity weapons in Elden Ring? You can read this article and learn from the guidance. Players can use
Cheap Elden Ring Runes
to search for other good weapons in the game.
The Best Dexterity Weapons in Elden Ring
Moonveil
Moonveil isn't just the best katana in the game, it's also one of the best weapons of any type. It scales off of dexterity and intelligence but doesn't require insanely high scores in either. It deals both physical and magic damage making it a versatile weapon for any enemy. Moonveil is also incredibly powerful in PVP thanks to its fast and powerful weapon art. Moonveil might not get the massive single hits of strength weapons, but its constant barrage of physical damage, blood loss, and magical damage make it one of the best weapons in the game, not just the best dex weapon.
Some players are calling for Moonveil to be nerfed in the weeks after the game's release, so the sword's status above all other weapons could change in the future. To acquire Moonveil, players will need to beat the optional Magma Wyrm boss in Gael Tunnel, which can be entered from the base of the northwest cliffs of Caelid.
Malenia
Malenia is one of the toughest bosses in Elden Ring and this weapon is a very suitable reward for defeating her. The Hand of Malenia is the strongest of all katanas while being almost as long as the Nagakiba. Meanwhile, the weapon can inflict Blood Loss at a very fast rate and comes equipped with a neat unique skill. The downside is that Hand of Milenia requires a ton of Dexterity to wield properly, however, that is to be expected since this is very much a late-game and NG+ weapon.
Although perhaps not the most practical unique skill in the game, Waterfowl Dance is incredibly fun to use and can make short work of groups of weaker enemies. It's interesting to note that the skill can be used even if the player doesn't meet the minimum Dexterity requirement, albeit it will be much weaker and slower. It won't look nearly as fancy either. On the bright side, using Waterfowl Dance with less than 48 Dexterity won't consume any FP. It's possible to dual-wield Hand of Malenia but only during NG+.
Vyke's War Spear
A late-game Dex weapon, you can pilfer this off of the NPC invader Festering Fingerprint Vyke, who you can run into on the way to the Church of Inhibition at Liurnia of the Lakes.
Vyke's War Spear doles out quick jabs, swipes, and thrusts. Even better, this weapon can inflict a Madness buildup on enemies with every swing. By implementing the Frenzy Flame Thrust skill, you'll launch yourself into the air before slamming down to the ground to release flames of Madness. Absolute carnage.
Bloodhound's Fang
Much like Ghiza's Wheel in our best Elden Ring strength weapons guide, Bloodhound's Fang operates more as a Quality weapon than a sole dexterity one. However, it slices its way into this list on the basis of its increased scaling in dex as you upgrade it.
It is an outstanding early game option for those who chose our pick for the best Elden Ring class, as it can be acquired and equipped fairly quickly by following Blaidd's questline. Although it is found so early and having relatively low entry requirements, Bloodhound's Fang does huge damage and has a great moveset which can help you take down the hardest Elden Ring bosses.
If you want to equip the best dexterity weapons with characters in Elden Ring, you can consider these mentioned weapons and try to get them in the game. And you can also
Buy Elden Ring Runes
to upgrade the stats of characters quickly, which can equip unique weapons in the game.