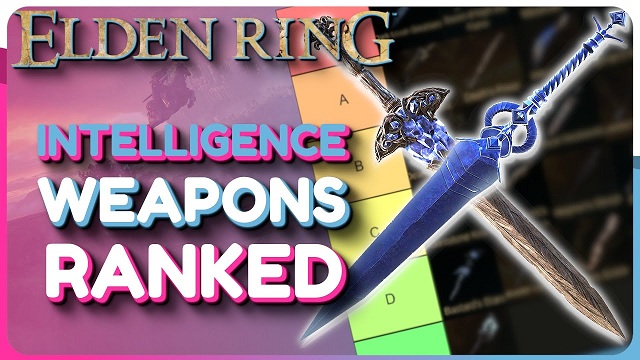 In the process of exploration in Elden Ring, players have access to find different kinds of weapons after completing quests or defeating bosses. And some players are willing to try to build different characters base on the special stat weapons. Like the Intelligence weapon, players want to know how to choose the best intelligence weapons in Elden Ring. Players can use
Cheap Elden Ring Runes
to upgrade stats and attributes for the requirement of weapons.
How to Choose Best Intelligence Weapons in Elden Ring
Moonveil
The Moonveil is one of the most prominent weapons in Elden Ring PvP, and that is no surprise. The Moonveil features incredible damage scaling with Intelligence, which means you can reliably attack up close with your sword with rapid attacks, as well as long-range opponents with your spells.
Where Moonveil truly shines, however, is with its weapon skill. Transient Moonlight allows the player to sheathe the Katana and use either a vertical or horizontal beam attack, both of which deal very high damage. Moonveil is awarded upon killing the Magma Wyrm in Gale Tunnel.
Fallingstar Beast Jaw
The Fallingstar Beast Jaw does incredibly high physical damage and magic damage at the cost of attack speed, weight, and stamina cost. As with the colossal weapons in the game, it takes a different play style to effectively wield this mighty weapon.
The Fallingstar Beast Jaw can be found atop Mt. Gelmir after defeating the Full-Grown Fallingstar Beast. This might be the second time players encounter this tough world boss, but this boss arena is a lot easier to fight in than the first time around. Upon its defeat, the Full-Grown Fallingstar Beast will drop this powerful weapon which can be upgraded and used to the very end of Elden Ring's story.
Dark Moon Greatsword
While this weapon requires you to finish Ranni's quest to obtain it, it is more than worth the work. This weapon boasts heavy and physical base damage, with an added bonus of frost damage. After getting to the later stages of upgrades, the intelligence scaling eventually reaches "B" on top of its other scaling and base damage.
This weapon's unique Ash of War, Moonlight Greatsword, makes this weapon nearly unstoppable. Boosting the magic damage and frost damage, this weapon now has an infinite use spell for a short time. Heavy attacks now launch a blade of magic, as many times as the player can attack before the Ash wears off.
Wing of Astel
Normally, Curved Swords are usually better suited for Dexterity or Strength builds. Making the Wing Of Astel a rather refreshing and potent weapon, especially for mages.
Scaling with both the Intelligence and Dexterity stats, the Wing Of Astel moveset revolves around rapid swings and devastating slashes. To make up for its lack of range, this curved sword has the skill, Nebula, which sees the blade fire off a blast of magical light.
You'll be able to find this ethereal weapon in the time-forgotten, Uhl Palace Ruins. It will be sitting in a chest, behind a particularly annoying Malformed Star enemy.
Starscourage Greatsword
A pair of curved greatswords of black steel decorated with a lion mane motif wielded by General Radahn. The greatswords and Radahn earned considerable renown as the Starscourge as Radahn engraved the gravity crest up these blades. The weapons special skill Starcaller Cry, allows its user to pull their enemies in with a gravitational wave and follow up with a large AOE attack with gravity-infused swords similar in the fashion of General Radahn.
If you are going to build the best intelligence character in Elden Ring, you can choose one of these mentioned characters to equip. And you can also
Buy Elden Ring Runes
to level up your characters quickly and equip high stats armors and weapons.