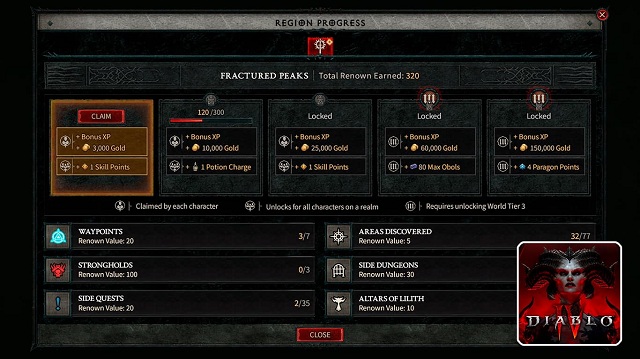 Many Diablo Series fans start to play Diablo 4 now. They are impressed about the new contents and features in the game. Some players notice the renown system in Diablo 4. They want to know how to earn more renown in the game. You can read this article for guidance. In addition, players need
Cheap D4 Gold
to get rare items for characters in the beginning of Diablo 4.
What's the Renown System in Diablo 4?
Renown in Diablo 4 is a reputation system that players can earn by completing various activities within the game's five zones: Fractured Peaks, Scosglen, Dry Steppes, Kehjistan, and Hawezar. Each zone offers unique activities, and completing these tasks will earn Renown points. These points are essential as they unlock stages that provide unique rewards and bonuses, including skill points, gold, potion charges, and even Paragon points.
How to Earn Renown in Diablo 4
Players can earn Renown by doing the following things in Diablo 4:
Discovering new areas (5 points each)
Finding Altars of Lilith (10 points each);
note that each Altar's benefits are separate from the Renown benefits, and are account-wide.
Activating Waypoints (20 points each)
Completing side quests (20 points each)
Completing dungeons (30 points each)
Completing strongholds (3 per Zone) (100 points each)
Players can check their Renown progress and rewards by opening the map and selecting a zone. A bar shows how many points have been collected so far, and how many are still needed to reach the next stage. It is also possible to see the rewards for each stage, which are split into character rewards and account rewards.
Diablo 4 Renown Rewards
Renown progress is split into five tiers, which serve as milestones you need to reach to claim Diablo 4 Renown rewards. It takes a total of 1,800 Renown to clear all five tiers and net those rewards, which means you don't have to be a completionist to reach this goal – simply play through the ARPG as you would, and the rewards will come. What's more, Diablo 4 Renown rewards are account-wide, which makes leveling alternative characters a breeze.
Here are the Diablo 4 Renown rewards for each tier:
Tier 1 (200 Renown) – Bonus experience, 3,000 gold, and one skill point.
Tier 2 (300 Renown) – Bonus experience, 10,000 gold, and one potion charge.
Tier 3 (400 Renown) – Bonus experience, 25,000 gold, and one skill point.
Tier 4 (400 Renown) – Bonus experience, 60,000 gold, and 80 Max Obols.
Tier 5 (500 Renown) – Bonus experience, 125,000 gold, and four Paragon Points.
It's important to note that your Diablo 4 Renown rewards won't unlock automatically once you reach a new tier, so be sure to claim them from the Region Progress menu. You can access it by pressing 'W' while the map screen is displayed.
Tips of Earning More Diablo 4 Renown
If you're looking to maximize your Renown rewards in Diablo 4, it's essential to focus on completing stages 1-4 early on in the game. These stages are relatively quick to finish and offer significant power boosts for your character.
To optimize your Renown-boosting efforts, try to find a route that combines as many objectives as possible. For example, completing Dungeons that award Aspects for the Codex of Power can significantly enhance your character's strength. Additionally, clearing the three Strongholds in each Zone can provide a considerable Renown boost.
Short Side Quests are also excellent for boosting Renown, and if the objective requires entering a dungeon, complete it to gain additional points. Collecting all Altars of Lilith can also contribute significantly to your Renown accumulation.
If players are willing to earn more renown points in Diablo 4, you can follow the guidance to complete related quests and earn the tier rewards quickly. Players can
Buy Diablo 4 Gold
to level up their characters fast and improve their basic attributes.