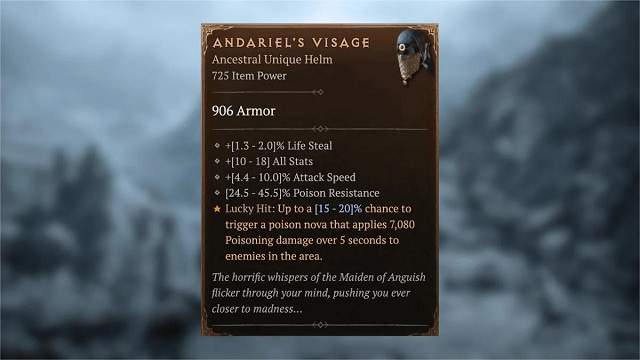 Players who want to enhance their characters in Diablo 4 are willing to search for rare and unique items in the game. One of the rarest unique items is the Andariel's Visage. Some players want to know where to find this item in Diablo 4. You can read this article and learn from the guidance. Players can get
Cheap D4 Gold
to unlock good items for characters in the trade market.
What's the Andariel's Visage in Diablo 4?
Andariel's Visage is a unique helm in Diablo 4 that can be equipped by all classes. It has the description: "The horrific whispers of the Maiden of Anguish flicker through your mind, pushing you ever closer to madness…"
This unique helm comes with four affixes, providing a boost to all stats, attack speed, life steal and poison resistance, which makes it an ideal addition to any build being utilized across the roster of classes.
Like all unique items, Andariel's Visage has an additional affix that cannot be found anywhere else in the game. It reads: "Lucky Hit: Up to a [15 to 20 percent] chance to trigger a poison nova that applies [x] Poisoning damage over five seconds to enemies in the area."
Where to Find Andariel's Visage in Diablo 4
The first requirement that players must meet to have a chance of acquiring Andariel's Visage is to play on World Tier 4, or Nightmare difficulty. World Tier 4 is unlocked after completing the Nightmare Capstone Dungeon, which has a level recommendation of 70. Speaking from experience, I recommend you be at least level 68 to even have a prayer of surviving this dungeon.
Once you are on World Tier 4, you want to turn your focus to slaying enemies and not opening chests. Andariel's Visage, as far as I know, can only be looted after killing an enemy. It cannot spawn as a loot drop from opening a chest. This means that opening Tortured Gift chests in Helltide events and opening caches from the Tree of Whispers are not ways you can acquire the helm.
Furthermore, Andariel's Visage only drops from enemies who are level 85 and higher. This means you need to be at least level 82 to see level 85 enemies out in the world. Nightmare Dungeons are likely going to be your best bet to see enemies of this level consistently. However, you need to use a Nightmare Sigil of at least Tier 31, as this will ensure your dungeon will feature level 85 enemies.
The Andariel's Visage Stats in Diablo 4
Here are the stats for Andariel's Visage:
820 Item power
1,025 Armor
+16 All stats
+9.2% Attack speed
+2.0% Life steal
+36.5% Poison resistance
Lucky hit: Up to a 19% chance to trigger a poison nova that applies 10,077 Poisoning damage over five seconds to enemies in the area.
Andariel's Visage will only drop at 820 Item power, as with the other five rarest uniques in the game, and it is account bound – so no trading.
After obtaining the Andariel's Visage helm, you might want to think about a respec of your build, especially for Rogue classes who might want to lean into its powerful poison properties and equip some poison imbuements. You should also brush up on the Sacred and Ancestral items in the game.
If you want to get the Andariel's Visage in Diablo 4, you have to repeat farming enemies in the game and have more luck to loot this item. And you can also
Buy Diablo 4 Gold
to equip good weapons or gear to beat more enemies in the process of exploration.