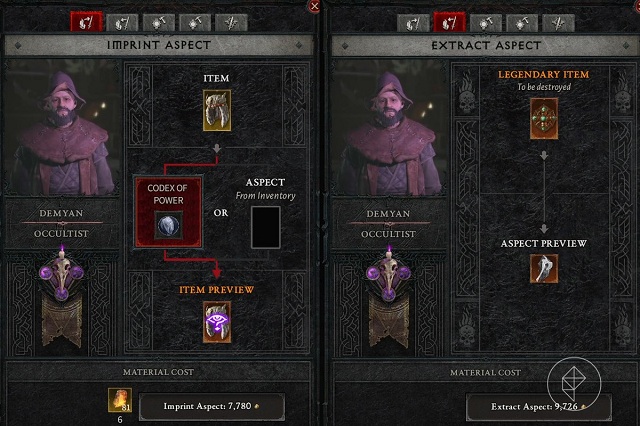 Diablo 4 is one of the most popular games on the internet nowadays, a lot of players have joined in the adventure of Diablo 4. In order to build the strongest character, players have to level up characters and find the best gears. And you can also upgrade gear instead in Diablo IV. You can read this article to know how to upgrade gear for characters in the game. Players can use
Cheap D4 Gold
to find the best weapons or armors for characters in the game.
How to Improve Gear in Diablo 4
Diablo 4 offers players a wide selection of ways to improve their gear, much more than in previous Diablo games. The following merchants offer services that can improve players' gear:
Blacksmith: Can Repair and Upgrade weapons and armor.
Occultist: Can extract and imprint Aspects as well as perform Enchantments.
Jeweler: Can Upgrade jewelry, add sockets to gear, and craft and unsocket Gems.
Materials for Upgrading Gear in Diablo 4
The materials needed to upgrade weapons and armor in Diablo IV depend on their rarity level. Common materials like Scrap Material will be needed for basic upgrades, while rare materials like Glowing Shard will be required for legendary upgrades. The rarity level of the weapon or armor will determine the number and types of materials needed. Upgrading a basic weapon or armor may only require one or two common materials, whereas a legendary weapon or armor may require several rare materials.
How to Salvage Materials in Diablo 4
Salvaging a piece of gear grants players crafting materials necessary for upgrading items of the same type. The rarity of the item salvaged generally determines the quality of materials acquired. Additionally, salvaging upgraded gear enables players to get back some of the upgrade materials used on that item. For example, if an item has been socketed with a Gem, the Gem is returned to the inventory. Furthermore, salvaging an item also unlocks its Transmog appearance for the Wardrobe.
All items in the player's Inventory can be quickly salvaged, but Legendary, Unique, and altered items (enchanted, socketed, transmogged) are excluded from this process. Individual items can be selected by using a hotkey, and these can then be salvaged with a single click when the player visits the Blacksmith. Effective inventory management is key to saving time between adventures.
How to Upgrade Gear With the Blacksmith
The Blacksmith can upgrade any gear piece or weapon of your choice and will also be able to repair any damaged gear in your inventory. You'll find a Blacksmith in most towns and settlements you come across in Diablo 4.
Upgrading gear will increase the item's base stats at the cost of gold and materials. Depending on the item's rarity, you can only upgrade it a certain number of times – the cost of gold and materials will increase each time. You can gain more materials by salvaging any unwanted weapons and armor.
You should probably hold off on upgrading your gear until much later in the game, as you will likely replace it with something better just around the corner early on.
How to Upgrade Gear with Aspects and Enchantments Using the Occultist
When planning your gear improvements, remember that the Occultist is not accessible until after the Prologue or when the player achieves level 20. Once you gain access to the Occultist, you can modify the affixes on your equipment, allowing you to tailor your build.
The Occultist can imprint Legendary Aspects onto the equipment and enchant it. The Occultist can acquire these legendary aspects from dungeons or via legendary gear. The most straightforward approach to ensure you receive the Aspects you want is to run through dungeons.
Once you acquire a Legendary Aspect, you can imprint it on a piece of equipment by going to the Codex of Power. Be careful while selecting the Aspect because this process will overwrite any pre-existing affixes on the object.
If you want to upgrade gear in Diablo 4, you need collect high level materials and find the right merchants to make it. Some rare materials are not easy to get, you can
Buy Diablo 4 Gold
to purchase them from the trade market.