The Pokémon Go events keep on coming! This week, fans of Niantic's popular mobile game will experience t
he first-ever Bug Out event which features Bug-type Pokémon
. The new bug event runs from April 2 at 1:00 PM PDT until April 9 at 1:00 PM PDT and come with a variety of bonuses. During the event, trainers will see more Bug Type Pokemons such as Caterpie, Pinsir, and Pineco, new limited time Field Research quests and rewards, new cool bonuses and we might even get a chance to see and catch
a Shiny Scyther
if you are in luck. Today, our
Rvgm.com
will be walking you through all the details on the new bug-themed event, and if you are in demand of Cheap Pokemon Coins, you can also visit our website.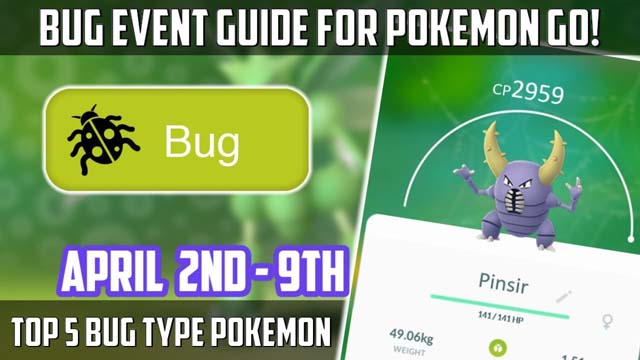 Pokemon Go Bug-Themed Event Details
During the Bug -Themed event, more bug Pokémon will spawn in the wild. In addition, Shiny Scyther and Scizor have also been activated for the first time. Aside from shiny Scyther, trainers should also keep an eye on pokemon Pineco, another rare spawn affected by the bug-type rate increase. Pineco also has a greater chance of appearing Shiny, so it's much easier to catch one during this event.
In addition to increased Bug Pokemon spawns, Incenses will last twice as long as they normally do during the Bug Out event, and they'll attract more Pokemon than usual.
As part of the event, there's a handful of special Field Research tasks that reward bug-type Pokemon or a hefty handful of Stardust. Here's a breakdown of all Pokemon Go Bug Type Field Research Tasks And Rewards:
Catch 10 Bug Type Pokemon – Scyther
Catch 15 Bug Type Pokemon – 1500 Stardust
Catch 5 Ledyba or Spinarak – Yanma
Catch 2 Wurmple – Caterpie
Evolve 3 Bug Type Pokemon – Nincada
Pokemon Giratina
Beyond the Bug Out event, Pokemon Go players now have their first chance to capture Giratina in its Origin Forme in Pokemon Platinum. This variant of the Legendary Pokemon will appear in Raid Battles until April 29 and has more offensive stats than its Altered Form. Here are some best Best Giratina Counters:
Giratina Counters
Giratina (Altered Form) is a T5 Raid boss in Pokémon GO. Giratina counters are mostly strong Dragon, Dark, Ghost, and Ice-types, such as Rayquaza, Palkia, Dragonite, Latios, Gengar, Shadow Ball Mewtwo, and Tyranitar.
Best Counters:
Rayquaza – Dragon Tail and Outrage
Dragonite – Dragon Tail and Outrage
Salamence – Dragon Tail and Draco Meteor
Latios – Dragon Breath and Dragon Claw
Alternatives:
Mewtwo – Psycho Cut and Shadow Ball
Gengar – Shadow Claw and Shadow Ball
Tyranitar – Bite and Crunch
Further Tips
:
Remember that the moveset is very important, so don't hesitate to blow through some TMs getting the better combo together before this fight.
As always, don't forget that if you only have six strong options, you can use revives after your first party faints and bring them back into the fight, rather than settling for the B-team.
Pokemon Go April Community Day
Shortly after the Bug Out event end, Niantic will host Pokemon Go April Community Day, which to take place from 3-6 PM local time on Saturday, April 13, and features a rare Dragon Pokemon Bagon. If you are in need of Incenses, you can buy them with
Cheap Pokemon Go Coins
at
Rvgm.com
, a cheap, reliable and fast online in-game currency store. Size the chance!