Aliens Creeps TD Strategy Guide for Beginners: Unlocking and Upgrading Heroes, Gems & Coins Farming, Tower Building And More
If you are a fan of building games, you should grab
Alien Creeps TD, one of the most addictive arcade-style strategy games
. In the game, players will play a leader, build towers and upgrade their towers, create the right tactics to be able to defend the attack of the extraterrestrial enemies. To get a good start in the game, we are here to help you with our Alien Creeps TD strategy guide.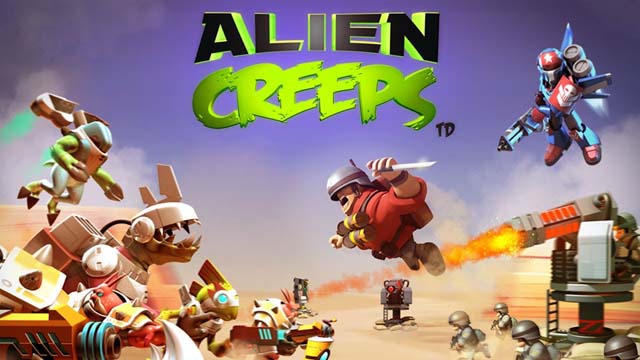 Use your Tesla Coil as last resort
Each level starts you out with a tesla coil pre-built on one of the tower locations. This tower can be used to deploy a long range lightning strike that will instantly decimate all nearby units at the attack point.Just keep in mind that you are only allowed to use it three times per level or you can spend your gems to recharge it. Definitely you must save it in difficult situation wherein you can use this as your last resort.
Always improve your hero
Definitely hero is the most useful element in your game so you need to constantly improve it so you can use his ability to the fullest for every level. Heroes can be levelled up through the "Hero Barracks" by spending Gems or they can gain experience through levels by killing Creeps. By leveling up they will earn new abilities to improve their offensive and defensive capabilities.Gems can be bought through the in-game store or earned through completion of all your Daily Tasks, connecting to Facebook and participating in Events.
The amount of experience your hero gets depends on two things: How much actual fighting they do (being "in the fray" as the game calls it) and the difficulty of the mission you are on.
If you have a good mission to grind out some experience on then keep with it. If you can try to do a more difficult level and see if you can't get that on grind status then that would be another goal. It would level them up quicker and not drive you insane by doing the same level over and over.
Ensure that you have always a laser towers
Laser towers are specifically effective for shield-bearing enemies that are semi-invincible and they are also pretty effective against any kind of unit. so it's best to have some around with other kinds of tower such as rocket towers and machine gun in your game.
Redo the levels with higher difficulty.
successfully earning 3 stars on the basic campaign version of a level unlocks the next difficulty for that respective level.To be specific, you are able to unlock the Veteran level that you can play for additional challenge as well as rewards. Veteran difficulty places certain restrictions on you. For example,you have only a one life plus you are only able to build machine gun and rocket towers and other related restriction like that. Each star is worth gold though, so as you go for full completion, you will acquire lots of golds as reward too. This is what you need to upgrade your towers and empowering your arsenal. So it is better to check previous levels and play in higher difficulty.
Coins farming tips
To upgrade your towers and empower your arsenal, you need lots of coins or gold. They can be earned in the following various ways. Also, you can buy
Cheap Alien Creeps TD Gems & Coins
from our
Rvgm.com
, a cheap, reliable and fast online in-game currency store.
Heroes earn Coins with each Creep they kill personally or help in killing.
Each Gold Star earned for the first time offers 600 Coins at the end of each level.
Collect Coins from Achievements.
Complete Challenges on each difficulty for Coins.
Watch our adverts for free Coins.
Or you can exchange them for Gems in the Coin Store.