Before you get into this game, it is very important to understand that
Gladiator Heroes is a free to play RPG game
, mixing base building with deep strategic combat. The game is set in ancient Rome and players must build an empire from a small village and defend it. There are over 25 different types of buildings that can be constructed. There is also a diverse map that offers arenas in settings such as jungles, deserts, mountains, and volcanoes for players to conquer with their gladiators. Here in our complete Gladiator Heroes strategy guide, we'll
share with you some Gladiator Heroes cheats and tips to help you win all battles
.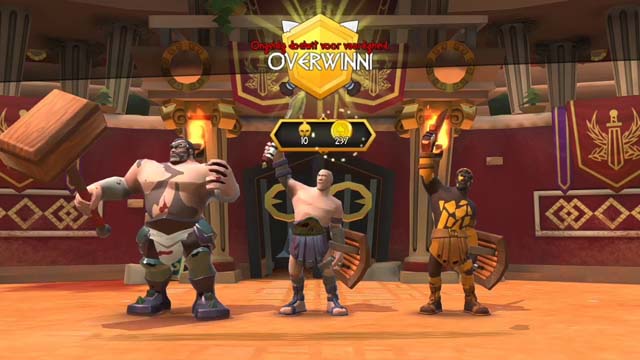 The World Map
Each flag represents a fight. There are two types of flags. First, flags on the road is a steadily progressing "story'"of your path to fame and glory. Secondly, flags placed randomly on the map are challenge fights that reward you the currency you use at the currency store back home.
Fights on the road have three tiers of challenge each. Each challenge gives a generous reward of resource and currencies. Once three are cleared, the flag turns gold, at which point you no longer earn resources or currencies, but you do still earn exp for the gladiator that you use so are always worth grinding.
Fights off the road reward currency store resources and build up to unlock time limited harder off the road challenge fights with even better rewards.
The Gladiators
There are also multiple gladiator types in the game, each with its own strengths and weaknesses and you unlock each type by progressing through the game.Your gladiators are weapon and armor equippable and upgradeable. Their also trainable for small boosts of performance.
They can also be upgraded within several quality tiers of gladiators with red gem currency. The rarity of the Gladiators you receive is determined by the type of Statue you use when unlocking them.Your best bet is to save your gems early on for a Silver Statue or a gold statue for high-tier gladiators.
The Combat
When you enter a fight you get to place between 1 and 3 gladiators on the map (determined by fight restrictions). Once you place the gladiators,you hit fight.
Auto pilot is on by default but you can turn it off and manually control the thing if you want.
Each gladiators special abilities are across the bottom left of the screen and use a resource only present for that fight that steadily builds up as your gladiators do things and each use of an ability increases the cost of the ability the next time you use it.
Gold Farming
The easiest way to earn gold is doing challenges, and you don't even need to have your champions at 100% HP to do it! Just keep doing challenges until i max out your gold.
If you max out the gold, Farm Road 44, send 2 heroes and they will earn from 120 (rank 2 heroes) to 80 (rank 4 heroes) per run, each run only will give you exp and it takes 10 seconds!, you can also send a solo hero if hes strong enough for 200 xp.
Gems Farming
Fortunately, the gem currency is readily awarded literally everywhere in the game for just a bout anything you do in the game. Just enter the game often to gather the world map chest and then finish each campaign mission in all difficulty levels. You can also buy
Cheap Gladiator Heroes Gems
right from our
Rvgm.com
, a reliable, cheap and fast online in-game currency store.