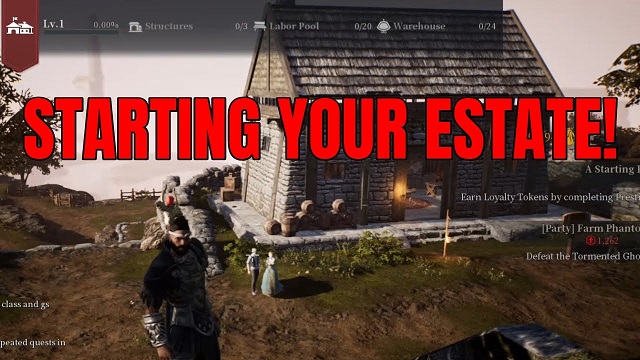 What level do you get an estate in Bless Unleashed? What is the use of an estate in Bless Unleashed? If you want to get known about this, just follow this short article!
What is an Estate?
Estates are the player housing system in Bless Unleashed. In order to unlock your own Estate, you must first progress to the quest "Old Friends and Allies" in "The Armies of Chaos" campaign. On completion of this quest, you are granted an estate that can be collected from the Sorza Knight standing right by you. You will have to speak to this Sorza Knight and begin the side quest "Entering Your Estate" in order to gain access.
Note: The campaign above is not to be confused with the "Campaigns" that are a separate UI that grant rewards for game progression! In your Estate, you can construct buildings where you are able to gather different resources and train tamed monsters to use as Mounts.
How to Get an Estate in Bless Unchained
You can get your own estate as early as level 25.
In order to gain access to your own property you must first complete the "Old Friends and Allies" quest.
Here's what you need to do to be able to start this quest:
1. Complete the first story campaign.
2. Start a fight with the Gideon boss at the end of campaign.
3. Put him down below 50% of health.
4. Go to the Sperios Military District at the Capital City.
5. Speak to NPC named Averdo Sorza.
6. Sorza will offer you a new "Entering the Estate" quest during the dialogue after fighting Gideon. You need to accept this quest and a whole new tab will appear in your world menu, through which you can access your estate.
How to get more buildings
You can acquire blueprints from side quests, monster drops or reward boxes. These blueprints are used to construct the following: Old Forge, Old Carpenter's Shop, Old Leathercraft Workshop, Old Alchemy Workshop, and Old Grocery store. Each of these will drop a sign when you build them, this will allow you to interact with them from there. The menus for each structure allow you to assign workers, manage and deliver jobs and move around your estate.
Following this guide and you will get an estate successfully in Bless Unchained. And if you want to get
Bless Unchained Star Seeds
, then we rvgm.com can also provide a big help for you!