Pokemon Go Detective Pikachu Event: how to catch Detective Pikachu, plus quests, research and shiny Aipom
To celebrate upcoming debut opening of live-action Detective Pikachu, Niantic is holding a special Pokemon Go Detective Pikachu Event in Pokemon Go.
The event lasts from
May 7th, 2019 through May 17th, 2019
. During the event, Pokemon Trainers will see increased spawn rates of Pokémon seen in the movie, Detective Hat Pikachu photobombs, Detective Pikachu themed Raid Bosses and Field Research, Detective Pikachu avatar items available in the in-game shop. In addition, trainer will also get a chance to catch a shiny Aipom. Here's everything you need to know about Pokemon Go Detective Pikachu Event.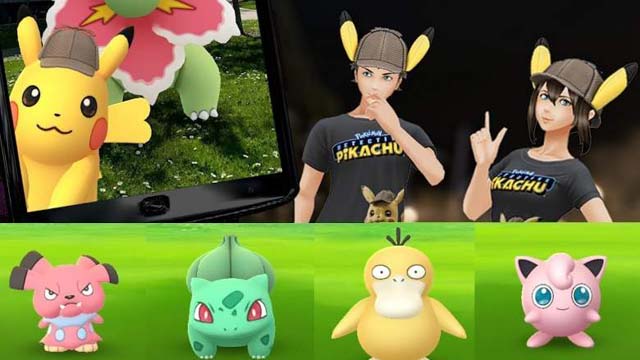 What to expect from Pokemon Go Detective Pikachu Event?
From May 7-17, Pokemon that star in the Detective Pikachu movie. This means you'll be seeing more Psyducks, Snubbulls, and Pikachus, you'll also be seeing powerful Pokémon like Ludicolo, Charizard, and Flareon on your radars. Bulbasaur, Charmander, Squirtle, Jigglypuff, Growlithe, Cubone, Lickitung, Eevee, Aipom, and Loudred also have boosted spawn rates for the duration of the event. To attract those pokemon out, you can buy Incense with
Cheap Pokemon Go Coins
at
Rvgm.com
. On top of that, a Pikachu wearing a detective's hat may photobomb any Go Snapshots you take; if that happens, you'll have a chance to catch it.
To get a detective Pikachu, simply snap some photos in AR+ mode. The Pikachu will appear, photobombing your snapshot and then will spawn on the overworld map shortly after. This is the same process used for Smeargle and the Ash Hat Pikachu.
If Smeargle-- or in this case, detective hat pikachu--shows up in the photo, it will do the same on the map. Just go back to main screen, and the Pokémon should appear.
The photobombing always happens on the first photo of a session, so don't feel inclined to cram your gallery full of near-identical pictures of Vaporeon, as I once did. This is how it works with Smeargle, and there's no reason to expect it to work any differently with detective hat Pikachu.
Beyond the increased Pokemon spawns, the Pokémon GO Detective Pikachu event features select avatar items in the store, like a hat with Pikachu ears, and a shirt showing off the great detective himself.
There's also an all-new Shiny, Aipom, which means it and its evolution Ambipom now have Shiny Pokemon Go forms. Aipom is also one of the Pokemon with increased spawn rates. if you spot a pink version of the normally purple monkey Pokemon, you'll want to catch them!
One extra bonus of the Detective Pikachu event worth talking about is that you'll also get double XP for catching Pokémon during the event, along with new themed Field Research quests and limited time raids.
Finally, there's a Field Research mission that challenges you to catch 10 Aipom, Snubbull, or Jigglypuff. Catching 10 gives you a Ditto encounter reward — if you don't have Ditto yet, now's the time to get one.