Madden NFL 21 is an American football video game, which is based on the National Football League (NFL)and developed by EA Tiburon and published by Electronic Arts. It is an installment of the long-running Madden NFL series. But Madden 21 Ratings are always Changing. Do you know why? If you have no idea, it doesn't matter, this article will tell you!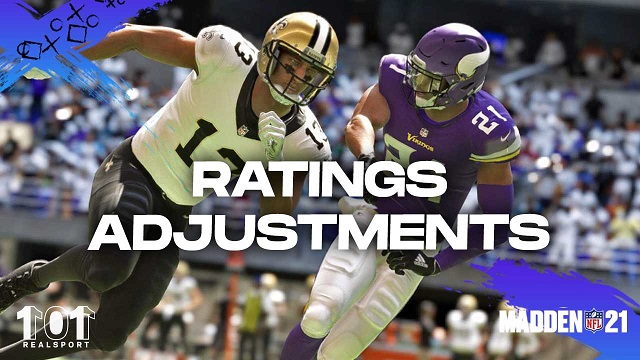 Since Madden NFL 21 is marked as a simulation football game, developers aim to make the title as realistic as possible. One of the main features which highlight their effort to incorporate realism into the game are the roster updates, which change player and team ratings based on how the NFL season is progressing. If the star Quarterback of a team is having a bad season statically, their ratings will drop in the game. Similarly, if a star Quarterback performs well, then their ratings can rise throughout the season. That means the 99 Club, the best players in Madden 21, can see their ratings drop if they don't perform at their usual high level.

Player performances
The roster update will not only change the player's ratings based on the changes in the NFL, but also keep the game up to date in terms of transactions, releases and signings. If a player is traded to another team, released, or signed by a team, a roster update will reflect that. It typically doesn't take long for roster updates to come out, so fans don't have to wait long to play with new acquisitions on their favorite team. Changes in ratings are made by Head Madden Ratings Adjustor Dustin Smith. It also seems that EA will be releasing weekly player ratings updates on the Madden 21 website.

Player Injuries
Apart from Player performances that lead to changes in player ratings, Injuries also play a big role in the integration of realism in the game. If a player gets injured during the NFL season, Madden will update the game to mimic the real life injury. Players who are injured and cannot play in real life will also not be able to play in-game. Their ratings will also drop significantly depending on the severity of their injury, and the team's overall rating may also drop slightly. This means injuries and player performance can also affect the ratings of the best teams in Madden 21.
Although score changes and roster updates may be attractive to everyone in the Madden community, using real-life harm may not be attractive to all players. Including injuries that prevent NFL players from participating in the game might be a feature that franchisees might like, because it integrates realism into the game, and forming a team full of injuries might bring interesting challenges to Madden's challenge franchise mode. Regardless of attractiveness, injury is part of football, so it makes sense to include it in simulated football games.
Football is an unpredictable game. Teams who have big expectations and aspirations can end up being terrible. Similarly , teams who have no expectations at all can have a successful season. Players can have a breakout year, or they can struggle with their game or injuries. It's all a part of the game.
As is known, Madden NFL 21 Coins are premier currency in-game. We can utilize them to buy items in the Auction House and exchange coins for Packs, Player items, and Contracts with other Madden players. To build your own Ultimate Team, You should get more coins. Earning Madden 21 Coins can be a little difficult. To relieve yourself from tedious work, you are highly to
buy MUT 21 Coins
at
rvgm.com
. We serve all of our customers with discount price, 100% safety guarantee, and instant delivery! To enhance your adventure and game experience, quickly buy Madden 21 Coins now, hope you can enjoy the game!