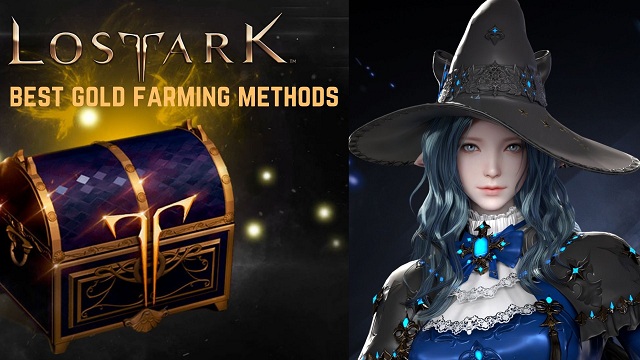 Lost Ark gold is an important currency in the game, players can use it to do many things, like buying weapons, materials, and potions, leveling up characters, and improving profession levels. While, it is not easy for players to collect a large amount of gold in the game. Many players are wondering the way to farm gold quickly in Lost Ark. We are going to tell you several effective methods of farming gold in the article. Players can get
Cheap Lost Ark Gold
to purchase rare materials or gear from the market for their characters in the game.
Some Effective Methods of Farming Gold in Lost Ark
Upgrade Your Trade Skills
With so many quests and so much to do, you might have left the whole Trade Skill mechanic off to the side, passing by every Arbor Tree you came across and snubbing your nose at every Dreamwalker Flower. Well, you are in good company, and this is why leveling up your Trade Skills might actually be good for lining your pocket.
Not only can Trade Skill materials be sold at the Auction House to players with more gold and less time to grind, but you can use those same materials to level up your Stronghold. Level up your Stronghold enough, and you will begin to unlock craftable Archeological Site Maps that reward even more Gear Honing materials to sell.
Sell Extra Gems For Gold
You can sell extra gems that you have in your inventory. Now, acquiring Gems is not a difficult process in the first place, as you can get these easily by defeating the bosses in Boss Rush mode.
Every time you complete the Boss Rush mode, you get tons of Gems that can later be sold at the market to get an enormous amount of Gold.The best part of getting Gold through Gems is that, unlike Auction House, you will no longer need to wait for the items to be purchased by someone. Instead, you can instantly sell the Gems to get Gold and keep the Gold farming currency going in Lost Ark.
Complete More Una Tasks for Gold
Una tasks can make an extra gold income per week. You can buy up to three chests every week from the gold vendor. Those chests can make you rich if you are lucky. You can have a giant gold bar inside which is 10k gold. But honestly, the chance to get this giant gold bar is 1-2%, so don't go too enthusiasts about that. However, you can make 3k gold surely per week because every chest contains a minimum of 1k gold. By the way, don't take small or medium chests, they are not worth, take directly the big one. The more you have, the more you can have in tokens.
Try to Collect Various Masterpieces
Among the items you can find and turn into gold in the Lost Ark game world are the so-called masterpieces. You get them by completing quests or filling adventure tomes. There are 38 masterpieces in Arkesia, for which you will collect a total of 29,000 gold when you show them to Alfonso on Sunflower Island. However, you must collect at least 20 masterpieces to get gold from Alfonso for the first time (3,000 gold).
Although the process of grinding gold in Lost Ark is not easy, you can try to experiment these methods in the game. Keeping completing tasks and raids, you will collect enough gold in the game. And you can also
Buy Lost Ark Gold
to purchase your desired items from the shop easily without grinding in Lost Ark.