The object of Gardenscapes is to build a luscious and thriving garden estate by completing puzzles and missions to earn coins and stars that can then be spent on the furniture and decor that you need to accomplish this. Therefore, you have to know how to make coins and stars fast, so that you can rebuild your dream garden as quickly as possible. To help you out, in this
Gardenscapes Coins guide
, we've listed
some effective ways to help you rake in lots of coins and stars quickly.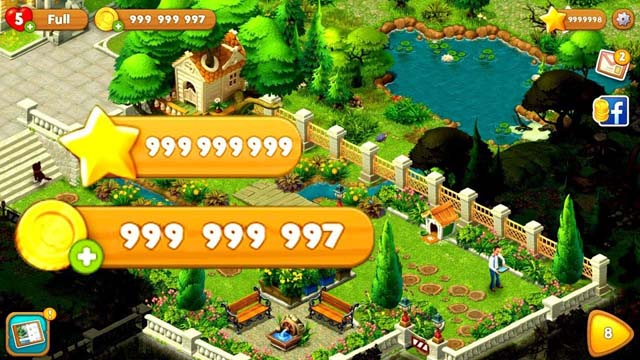 How To Earn Coins And Stars Fast In Gardenscapes?
Fortunately, there is plenty of ways to earn coins and stars in Gardenscapes. Here's some recommended ways from
Rvgm.com
. We also provide
Cheap Gardenscapes Coins
if you wanna relive yourself from endless grinding.
Link Your Account With Your Facebook
Yes, connect your game to Facebook. Easy-peasy! Not only can you share your gaming experience with your friends in real life, but also you will be rewarded with 1,000 free coins. You can link your account with your Facebook anytime you want. So have you connect them yet? If not, hurry up and grad the 1,000 coins.
Completing Levels
This is the main way to earn coins and stars in Gardenscapes. In the game, you will be rewarded with 50 coins per completed level. So, it would take you much time to accumulate 1000 coins. In this case, why not buy Cheap Gardenscapes Coins right from our
Rvgm.com
? As a top online in-game currency store,we have received great reputation for our cheap price and great service. So have a try! In addition, players can also get bonus coins if they left some unused steps. The more unused steps left, the more bonus coins they get. To do this, you should match 4 or 5 same items together for more power-ups.
Completing Tasks
There is a wide variety of tasks in the game for you to challenge against and you'll need stars to complete them. If you complete the tasks the game assigns you and fill up the completion bar that is found in the task menu to 100 percent you will be rewarded with a significant amount of coins. The amount of coins very. This can sometimes be over a thousand coins per task bar completed if you get lucky.
Lucky Spin
It's worth checking in to the game each day even if it's to do the Lucky Spin. This daily bonus gives you the opportunity to win some free coins, free lives, or a power-up.
Save Your Coins
While not technically a tip to help you earn more coins, we believe it's also important to know to spend coins wisely and therefore make more coins. Coins are the main currency of the game that will let you buy Shovel power up. Try to spend Coins for buying Shovels rather than other power ups. This is because some other power up will give you a head start but lots of Shovels will help you in completing the level quickly and earn more coins. A Shovel enables you to dig up one tile anywhere on the board. So, this can be really helpful when you are stuck up at a tough stage.
How To Get Stars In Gardenscapes?
Completing Levels is only one way to get stars and that is to complete levels and even then you will always only get one star. If you are able to complete a level with a ton of moves left over, you may earn up to 3 stars, while you will get no stars if you fail to complete a level.