Cooking is one of core components of Genshin Impact - which kind of adds up considering that the game has been talked of as something of a Breath of the Wild clone. Part of the process of preparing food is processing ingredients. It's fairly simple. For better processing the game, we prepare for you a guide of information about ingredients, recipes, and cooking in miHoYo's new open-world RPG. Let's start!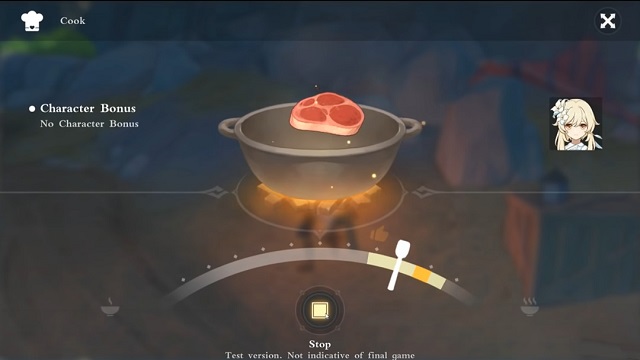 How to Process Ingredients in Genshin Impact
For ingredient processing, it is the chilli peppers icon that is of interest, and fans should select it to access the relevant menu. If performed correctly, the word "Process" will appear at the top-left corner, and Genshin Impact players are now ready to transform ingredients by selecting them, pressing "Cook" at the bottom-right corner, and then confirming an amount.
To note, while following these steps will put things into motion, ingredient processing in Genshin Impact is not immediate. Indeed, each ingredient takes a designated amount of time to process, with some requiring as much as 20 minutes, and a countdown will appear on the item while it is undergoing the transformation. For those players that want to complete their ingredient processing quest quickly in this action game, turning Wheat into Flour is a good option, as that occurs in just one minute.

How to Find Mskeletonore Recipes and Ingredients in Genshin Impact
Outside of the basic meals you can cook with meat and fowl, there are tons of more complicated recipes you can concoct with better ingredients.
At Adventure Rank 15, you can buy more recipes from The Good Hunter, but before then you can buy all sorts of fun ingredients from the General Store on the main street in Mondstadt.
With those in hand, when you interact with a fire, you can press R1 on PS4 to switch to the Process menu. Here you can combine your basic ingredients and process them into more complicated ones.

Genshin Impact Cooking Tips
Until you reach Adventure Rank 15, most of the dishes you'll be able to cook are simple one- and two-star dishes to restore HP. As you progress, you'll access recipes that decrease your rate of stamina depletion or boost stats such as attack and defense for a set period of time.
When you're cooking a dish, you'll want to time your button press to coincide with when the slider reaches the white or yellow zone. Landing in the white zone will earn you a standard level dish. The yellow zone will reward you with an enhanced version of the dish and a proficency point. Once you max out the proficiency for a given dish, you'll unlock automatic cooking for that item, allowing you to make multiple copies without bothering with the timed slider.
There's one important detail about cooking in Genshin Impact that's easy to miss. After you've selected an item to cook, you can choose which of your characters prepares the meal (press Square on PS4). You'll see your entire roster of party members, and sometimes specific characters may "obtain special dishes" by preparing their favorite foods. Sure, it's easy enough to just prepare everything as the main character, but taking that extra second to find the best character for the job is totally worth it.
Above is everything we know about cooking in Genshin Impact. Genshin Impact opens a huge world for us to explore. If you want to find more about Genshin Impact, please come to rvgm.com. We are a professional online game store aimed at providing game services, such as game consulting, game coins, items and etc. MiHoYo's Genshin Impact has grossed over $100m since it launched globally two weeks ago. So we can see how appealing it is to players. Do you want to have a try? So as to equip with the best characters, weapons, and artifacts to keep your hero safe and sound, you are highly to recommended to
buy Genshin Impact Acquaint Fate Account
at
rvgm.com
. As a leading game store in game market, we provide the top-quality service, with the lowest price, fast delivery&safe transaction. 24/7 live chat is available to all players. Any doubt, please feel free to contact us!