For those who are looking for a good build for Ranger and don't know what powers to use and what stats should mainly focus on. Here's a basic but effective melee build for AOE and Single Target.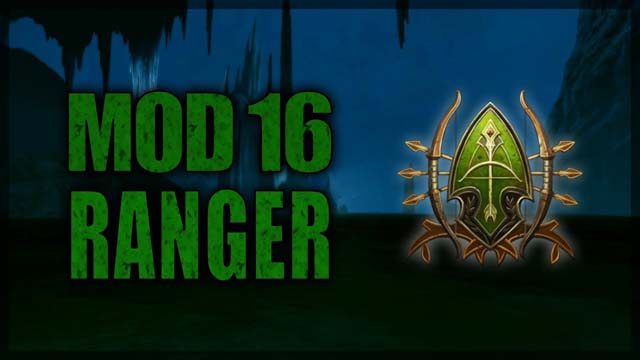 Neverwinter Mod 16 Melee Warden Build:
At-Wills
Storm Strike
Clear the Ground
Encounters
Hindering Strike
Marauder's Rush
Boar Charge
Daily Action
Call of the Storm
Class Features
Blade Storm
Seeker's Vengeance
Feats
Focused
Storm's Recovery
Blade Hurricane
Skirmisher's Gambit
Enhanced Conductivity (doesn't work yet)
Rotation
: As usual, encounter --> at-wills x3 --> encounter --> at-wills x3 unless another encounter is enough to finish your target.
Ability Scores
hardly make a difference but I picked DEX and CHA. STR might be better than DEX but keep in mind that both Storm Strike and Call of the Storm deal lightning damage which is influenced by INT, not STR.
Armor
: Keep all your +X% damage gear, it's better than most of the stuff that drops in undermountain except the hood with +5% damage and the shirt which reduces cooldowns.
Cloak and belt
: Demon lord's set or Apprentice's spoils set (Warning: the apprentice set bonus is bugged and deals very weak damage if you have a weapon enchantment). Demon lord has a great set bonus but very low stats. Apprentice's spoils have great stats and a semi-useful set bonus. If you already have a demon set I'd say keep it. If you're on a budget, Lostmauth's Hoard isn't so bad, specially on an otherwise weak character.
Quickbar
: Get yourself a doohickey.
Enchantments
: Radiants for both offense and defense, darks for utility. Vorpal for weapon.
Kits
: Power for armor, CA for jewels
Boons
: +% damage, movement speed, companion influence, power, recovery speed, critical severity, bloodlust.
Companions
: Get a legendary augment ASAP. The best choices are Bulette Pup and Quasit but the difference is small. Heck their Enhancement extra stats here:
https://docs.google.com/spreadsheets/d/1RzTEWS-tPNWYWynZW1hcR0W46rGtOeV9i78Lm2dOdEE/edit?usp=sharing
Player Bonus Powers
: It's all about power, here are some of the best ones.
Deepcrow Hatchling (mandatory)
Kenku Archer
Ghost
Mercenary
Neverember Guard Archer
Minstrel
Insignia Boni
Gladiator's Guile x2 (15% movement speed)
Barbarian's Revelry x2 (1.5% max health)
whatever you want, maybe Wanderer's Fortune
Insignia Types
Dominance where possible : regal, illuminated and barbed
Prosperity or Fortitude for the rest : crescent and enlightened
Hope you can get some help from this recommended build. So, stay tuned to
Rvgm.com
. Not only do we offer pro guides on Game Neverwinter, but also provides
Cheap Neverwinter Zen
and
Astral Diamonds
at the cheapest price online along with fast delivery.