Apex Legends update 1.68 is live on May 11th, some changes and fixes added with this patch. Let's look them in details.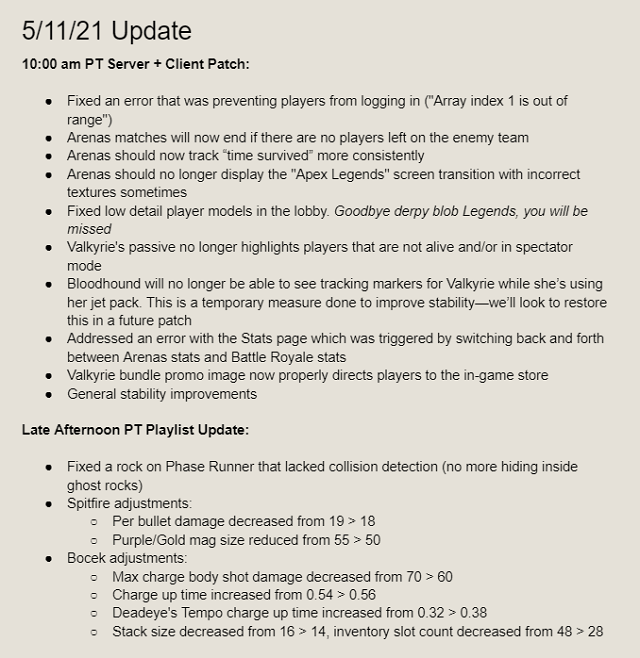 Apex Legends update 1.68 Size and Platform
The Apex update 1.68 now it can be downloaded and installed for PC, PS4 and Xbox One. On PS4, the download the size is 630 MB depending on the platform.
Apex Legends Update 1.68 Bug Fixes:
·Fixed an error that was preventing players from logging in ('Array index 1 is out of range")
·Arenas matches will now end if there are no players left on the enemy team
·Arenas should now track "time survived" more consistently
·Arenas should no longer display the "Apex Legends" screen transition with incorrect textures sometimes
·Fixed low detail player models in the lobby. Goodbye derpy blob Legends, you will be missed.
·Valkyrie's passive no longer highlights players that are not alive and/or in spectator mode
·Bloodhound will no longer be able to see tracking markers for Valkyrie while she's using her jet pack. This is a temporary measure done to improve stability — we'll look to restore this in a future patch
·Addressed an error with the Stats page which was triggered by switching bank and forth between Arenas stats and Battle Royale stats
·Valkyrie bundle promo image now properly directs players to the in-game store
·General stability improvements
Apex Legends 1.68 Playlist Update
Spitfire changes:
·Bullet Damage reduced: 19>18
·Purple/Gold mag: 55>5
Bocek Bow changes:
·Max body shot damage: 70>60
·Charge time increase: 0.54>0.56
·Deadeye's Tempo charge increase: 0.32>0.38
·Stack size: 16>14
·Ammo slot: 48>28
No matter what version you are playing for, you cannot live without Apex Legends Coins, which can help you buy weapons and items and to be the core player in each mission. We rvgm.com is the best place to buy
Apex Legends Coins
, cheap, safe, fast, 24/7!