Here's a fun fact for the day that in the past, King Digital Entertainment, the makers of Candy Crush, reported that the game had more than 93 million active users. That's more than the population of all but 12 countries in the entire world. So if you've been champing at the bit to download the latest
Candy Crush Saga
, the wait is over. There are new characters, candies, power-ups and more noticeably, new boss challenges that everyone is going to love.
You'll be pleased to hear that all existing special candies are still available in Jelly Saga. For newbies, this means you need to do the following to create each special candy:
Match four in a row:
Creates striped candy that will clear a full line when next matched
Match four in a square:
Creates a fish, which will attack one other square when next matched.
Match five in a row:
Creates a spotted candy that clears all sweets of the colour it is matched with. Will also turn all matched colors into a wrapped or striped candy if matched.
Match five in a T-shape:
Create a wrapped candy that will explode when matched, taking out any sweets that are touching it.
Match six or more:
Create a glass sweet that can change the colour of any sweets it is matched with, raising the chance of creating a special candy.
Every games company dreams of making that kind of splash, which is why playtesting is such an important part of the development process for any new game. In a playtest, a game under development is opened up to a small number of carefully selected players and their subsequent interactions with it are closely observed and analyzed.
This time round levels span multiple grids, linked by making matches over the purple jelly squares.Get these matches right and you can cover the whole stage in jelly before moving on. Giving the game more structure is the new Boss mode. These battles are turn based and require a more strategic approach, with players needing to think a few moves ahead. Key here is slowly taking over the board with your own color of jelly.
The developers offered some Jelly Saga tips to help get you started:
1. Create special stripe and wrap candies to stun bosses.
2. Create three specials in a row so the next move gains a special strike.
3. Plan ahead to use special candy before the boss does.
4. Remove frosting when you can to catch the Puffler.
5. Fish always target a random frosting, therefore the less frosting on the board the more chance that the fish will hit the Puffler.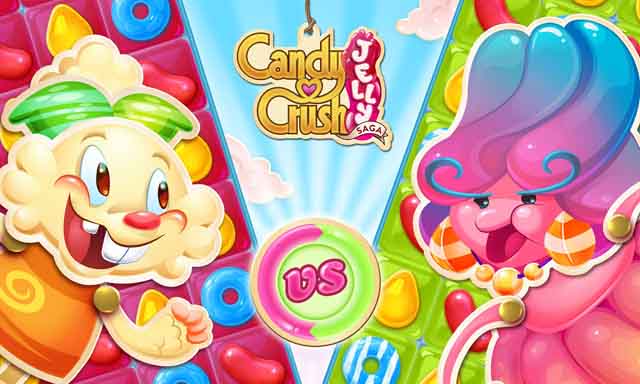 Despite being five years old, Candy Crush Saga has retained its popularity and returned to the position on the iOS and Android app stores in the US following a record-breaking third quarter. In addition, King has had two of the top 10 grossing games in the US for four consecutive years. Five years on, two other games have launched as part of the franchise, Candy Crush Soda Saga and Candy Crush Jelly Saga. Now buy Cheap Candy Crush Jelly Saga Gold Bars for Android and IOS in
rvgm.com
which is the best place to buy Candy Crush Jelly Saga Gold Bars fast and safe online. For the more benefits to our customers, we will keep providing the fast and safe service to our clients.
And the app's not just sitting unused on people's phone's, either: 1.1 trillion rounds of the game have been played around the world to date. Many people play daily, with a total of 115,000 kilometers swiped by fingers every single day which, the makers point out, is the equivalent of running a collective 2725 marathons.
The King team work hard to constantly innovate and create original gameplay to attract a wide audience and keep the game interesting.
Cheap Candy Crush Jelly Saga Gold Bars
continued its success story at the start of 2016, exciting fans in the way both previous games have in the past.