Pokemon Go Third Anniversary Event Live Now: Start Time, Mini Events, And G5 Pokemon
Trainers!
Pokemon Go third anniversary event kicks off now,
jam-packed with three new mini-event. Eight shiny Alolan Pokémon, Team Leader Avatar Items, Party Hat Pikachu, Jump-Started Research, Raid Bonuses, and 1/4 less Stardust for trading are all featured in this jam-packed series of events. In addition, they also teased Mewtwo, Team Rocket and Gen 5 Pokemon. Here's everything you need to know about Pokemon Go Third Anniversary Event.
New features starting on June 28 at 1 p.m. PDT
Shiny Alolan Pokémon
— You'll have a chance of encountering the following Shiny Alolan Pokémon: Rattata, Sandshrew, Vulpix, Diglett, Meowth, Geodude, Grimer, and Exeggutor.
Team leader avatar items
— Avatar items featuring the team leaders' personal styles will be available in the Style Shop.
From June 28, 2019, at 1 p.m. PDT to July 6, 2019, at 1 p.m. PDT
A familiar face returns to the party!
— Once per day, you might have the chance to encounter a Pikachu wearing a party hat when you take a GO Snapshot photo! Pichu wearing a party hat will also be available to hatch from 7 km eggs.
From June 28, 2019, at 1 p.m. PDT to September 2, 2019, at 1 p.m. PDT
Jump-Start Research
— Looking to get up to speed with your research? Do you have a friend who wants to play but feels they've missed out on too much in Pokémon GO? Don't worry! Trainers can complete new Special Research for helpful rewards that will jump-start their new or continuing adventures. This Special Research is only available this summer for players at level 10 or higher, so be sure to let your friends know about this opportunity to join in and get special rewards.
Raid bonuses
— Take down Raid Bosses faster and earn extra bonus Premier Balls to catch them with when you raid with friends.
Decreased Stardust costs for trading
— Trading Pokémon will cost ¼ less Stardust.
Remember, Trainers: play more with your friends this summer to get the most out of raids and trading!
Edit:
1. Everyone knows someone who hasn't played Pokémon GO in a while. What better way to get them back involved than a Jump-Start Special Research.
2. Raiding with friends will pay off even more! While Raiding with friend you will deal increased damage to Bosses and earn extra Premier Balls to catch them with
3. 1/4 off TRADING! Put on those trading shoes Trainers! Discounted trading is more incentive than ever to mass trade Pokémon with your friends. Get all the luckys you can!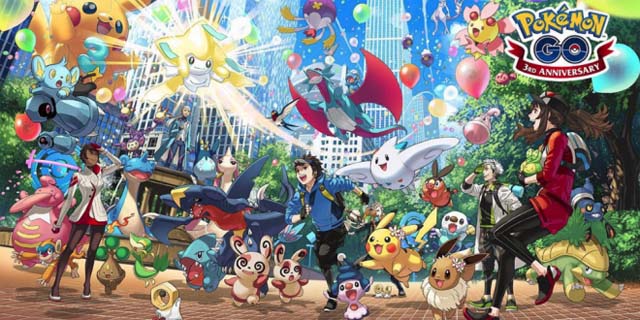 Now, as you can see from the image above, Niantic is teasing Gen 5 Pokemon:
Snivy
Tepig
Oshawott
and Team Rocket. If you look closely, Team Rocket is hiding behind the trees on the right side, next to Croagunk.
The summer is getting hotter! More info to follow, so stay tuned to
Rvgm.com
, a professional online in-game currency store for
Cheap Pokemon Go Coins
.