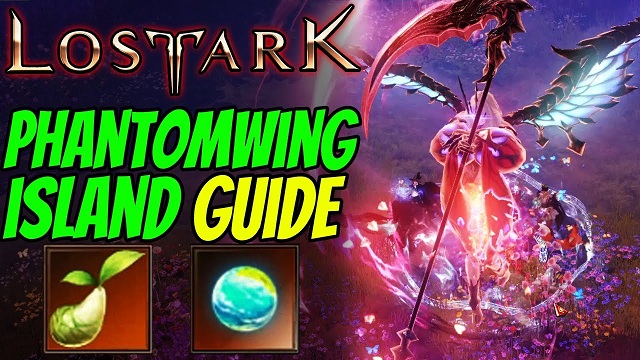 The Phantom Wing Island is one of the most beautiful paradises in Lost Ark. Players are willing to explore this area in the game, and they can also obtain Island Token in this paradise. However, it is not easy for them to find the location of this beautiful island in the game. It usually appears a few times in a week due to its specific characteristic. So, players can learn from this article to know where to find the Phantom Wing Island and how to obtain Island Token in Lost Ark. Meanwhile, players can try to collect other rare items by using
Cheap Lost Ark Gold
in Lost Ark, some of them can be used to craft high levels of items that used to equip for your characters.
Where to Find the Phantom Wing Island in Lost Ark
The Lost Ark Phantom Wing Island is quite an elusive island for many players, which is causing issues when trying to locate it. It's part of the adventure islands, which are timed events in Lost Ark where an island will rise out of the sea, giving players limited time to finish the quests and objectives.
Firstly, you will need access to Lost Ark ships to find this place. You also need to have reached combat level 50, and equipped item level 250, meaning you should be into the end-game before attempting the challenges of this adventure island.
Phantom Wing Island can be found just north of the small continent of Papunika, and south-east of Rohendel. If you set off from Papunika to reach it, once you hit the Eye of Hypnos, then go a little further and the island will be there.
How to Obtain Island Token in Phantom Wing Island in Lost Ark
Once you make it to Phantomwing in Lost Ark, you can begin your quest to earn the Island Token. To do so, speak to Melissa first. Upon conversing with her, you will be given the task to locate traces of butterflies. To get the token, you need to successfully finish a few quests, and this is one such quest. Completing it will result in a mini cutscene.
Next, you need to head over to Adrinne. Speak to her to receive a quest for the Phantom Wing Island in Elden Ring. This quest requires you to seek phantom plants from a cave. After you collect and hand over these plants to Adrinne, she will direct you to locate her sword. Go to the nearby caves and look for Creon. Seek his assistance in getting to the Guard Captain of Phantomwing Island. After speaking with this NPC, you will be able to head back, draw the said sword, and go back to Adrinne.
The story on Phantomwing island is surprisingly gripping and engaging. The boss of the island is Adreinne herself. She has three phases, and to defeat her you have to follow her by getting into the tornados that she leaves behind upon downing her in each phase. Other than that, the fight is pretty straightforward. Avoid her clones and destroy the magic plants she summons from time to time to defeat her.
Defeating Adrinne will give you the chance of getting the Phantomwing Island Token as her drop. In case you do not get the token, you can simply wait for the next day that the Phantomwing Island will open up once more, and then just go through the quest and defeat Adrinne again.
Players may meet different kinds of difficulties in the process of obtaining the Island Token of the Phantom Wing Island, you can
Buy Lost Ark Gold
to select the suitable weapons for your characters to kill more enemies that block the way to complete the final quests in Lost Ark.