In SimCity Buildit, some of these buildings are purchasable like anything else, simoleons, while
specialization buildings like beach require a special currency called, "Golden Keys."
So,
how to earn golden keys in SimCity Buildit
? How to spend golden keys? Here
Rvgm.com
will explain all of those questions to you.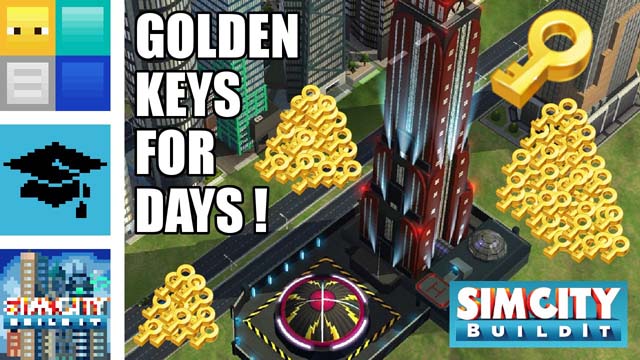 How to Use Golden Key in SimCity Buildit?
Golden Keys are used to purchase the specialty services buildings after you've purchased the HQ building for the given service. Example: Once you purchase the Gambling HQ with simoleons, you'll have unlocked other gambling facilities such as the casino. So, if you haven't unlock HQ yet, you can unlock it with
Cheap SimCity Buildit SimCash&Simoleons
at
Rvgm.com
, a reliable, cheap and fast online in-game currency store. Tap on these buildings, place them where you want to build, then you'll be prompted to spend golden keys to build them.
How to Get Golden Keys in SimCity Buildit?
There are totally four ways to get golden keys in SimCity Buildit: Cargo shipments, Dr. Vu Tower Disaster Challenges,Random item drops, and daily chests. Since the later two methods are pretty straightforward. Below, we only explain the former two methods.
Cargo Shipments
Once you have unlocked your Cargo Dock, you will begin to receive cargo shipment orders for 3 different types and numbers of items from your factories and stores in which you have 18 hours to find the required items and complete the order to receive 1 Golden Key.
The ship arrives at dock and you can load it with goods that are needed at a certain location. It seems the value you get for the items you sell is better than what you get at Global HQ. It gives you time to produce the goods if you don't have them made already.
After the ship leaves you get a key. If you click on the dock again it tells you how long before it comes back and what items it will be looking to pick up, although it doesn't specify how many.
Dr. Vu Tower Disaster Challenges
The Vu Tower in SimCity BuildIt is by far the fastest way to earn golden keys of the four ways. To unlock the Vu Tower, your city must have 90,000 population and spend 40,000 Simoleons, regardless of level. Once Vu Tower is unlocked, you can launch disasters which can provide a varying number of Golden Keys, and you will begin seeing Vu items in GTHQ and receiving them in random drops. The quantity of rewards depends on the power and the level of the disaster you launch. There are six different disasters with three different levels. To launch disasters, you must consume Vu items. The number increases for both the power and level of the disaster. Vu tasks are also very common and required to complete if you wish to place highly in the Contest of Mayors.
So there you have it - the total four ways to generate Golden Keys to use in boosting your city to bigger and brighter things!