In Cooking Fever, there are two currencies in this game:
coins, and gems.
You need coins and gems to purchase and later make upgrades to each restaurant.The cheapest upgrades only cost some coins, but most upgrades and all location unlocks will cost some amount of both currencies. So, how to farm gems and coins fast and easy in Cooking Fever?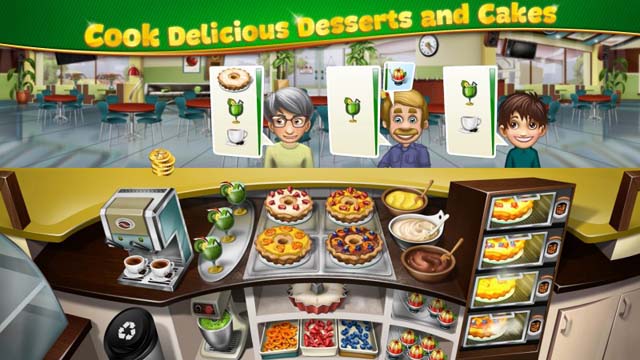 Ways to Farm Gems
Once you've reached Level 7 XP, the casino becomes available. When you have enough coins, place $500 bets until you win 15 gems each day (only if you have extra money). For some reason, it's a little harder to win 15 gems when you have a low XP so replay higher levels in the Fast Food Court until you've reached XP Level 12.
Return to the game daily for your Welcome Back reward; after day 7 you will receive 2 gems per day daily of consecutive game play. So, here's a trick for you: every night at 24.00, you get 2 gems. If you change the time zone, every time it turns 24.00. you get 2 gems. If you just change the time manually, it doesn't work. Change to timezones for example Cairo, Los Angeles,Anchorage.
Increase your XP ; each time you advance to a higher an experience level, you will receive coins and gems. You initially receive 2 gems and will max out at 7 gems per level advance. You should try to increase your XP level at least once daily. You can earn experience points through the "tasks" for each restaurant, in addition to playing levels. If you are playing additional levels for the sake of winning XP and leveling up, go back and play the early levels after you've upgraded some ingredients or equipment. You'll probably be able to get 3 stars in the at least the first 1 levels of each restaurant once you've done some upgrades. Getting 3 stars and/or serving customers quicker thanks to the upgrade will often trigger those tasks. For example "serve 3 glasses of ginger ale in 6 seconds" is pretty impossible if your ginger ale machine is just at 1 or 2 servings at a time. However, once you've upgraded to level 3 you'll easily be able to replay a level and get the XP for that task.
Buy them with real money. If you are a person who pay to win or do not have so much time to play the game, this is probably a good choice for you.
Ways to Farm Coins
Coins are also important, but are much easier to earn. You get coin bonuses every few levels. You also get daily coin bonuses, both for just starting the game up, and from each location you've unlocked where you've cleared at least 1 of the 40 levels (the bonuses increase with the number of levels cleared). You can replay levels as much as you want to earn additional coins. Some locations also pay even more coins than others (FC Barcelona Sports Bar and Breakfast Cafe, for example). The higher the level in the restaurant, the more Coins you receive for passing the level. Last, you can also get coins with real money, and
Cheap Cooking Fever Coins
are on sale at
Rvgm.com
.
Happy Farming!