About This Content
Take part in the next saga of the critically acclaimed FINAL FANTASY® XIV Online with the next legendary expansion pack—
SHADOWBRINGERS!
Explore breathtaking new environments, encounter exotic new races, master exciting new jobs, and fight alongside prominent characters with the new Trust system as you embark on a new journey as the Warrior of Darkness!
With over 16 million adventurers worldwide, join the next chapter and become what you must.
Become the Warrior of Darkness!
• A new adventure awaits in Norvrandt
• New jobs: Gunbreaker and Dancer
• New playable races: Viera and Hrothgar
• Level cap increase from 70 to 80
• New towns to explore: The Crystarium and Eulmore
• Journey through expansive new areas, such as the Rak'Tika Greatwood, Amh Araeng, Il Mheg, and Lakeland
• New trials, including harrowing encounters with Titania and Innocence
• New beast tribes: pixies, Nu Mou, dwarves
• A plethora of new dungeons to explore
• A challenging new 8-player raid: Eden
• An exciting new alliance raid series: YoRHa: Dark Apocalypse
• Tackle dungeons solo while fighting alongside prominent characters with the new Trust system
• Relive the adventures from your past with your current level and gear via the New Game+ system.
• The Restoration of the Holy See of Ishgard - In the aftermath of the Dragonsong War, Disciples of the Hand and Land work together to rebuild Ishgard
… and more !!
NOTE: Some content will be added via patch updates.IMPORTANT:
• Please note that the FINAL FANTASY® XIV: SHADOWBRINGERS expansion pack also includes FINAL FANTASY® XIV: HEAVENSWARD & FINAL FANTASY® XIV: STORMBLOOD, which will be provided at release on July 2, 2019. This package requires FINAL FANTASY® XIV Online Starter Edition (A Realm Reborn) to play the game.
• This product is only compatible with the Steam version of FINAL FANTASY® XIV: A Realm Reborn. If you've purchased FINAL FANTASY® XIV: A Realm Reborn on Steam, then you must also purchase FINAL FANTASY® XIV: SHADOWBRINGERS on Steam to upgrade your existing account.
• Once you have purchased the game, you will be able to view your registration codes by selecting "FINAL FANTASY XIV" in your Steam "Library" and selecting "CD key" on the right-hand menu. The codes will always be accessible from this location should you ever need to reference them again. Please note that these codes will only work on Steam FINAL FANTASY XIV service accounts.
• You will be able to redeem the registration code for "FINAL FANTASY XIV" on Mog station on the day of the official launch, July 2nd.
• For those playing "FINAL FANTASY XIV" for the first time, the registration codes can be registered during the game installation process
Collector's Edition Items: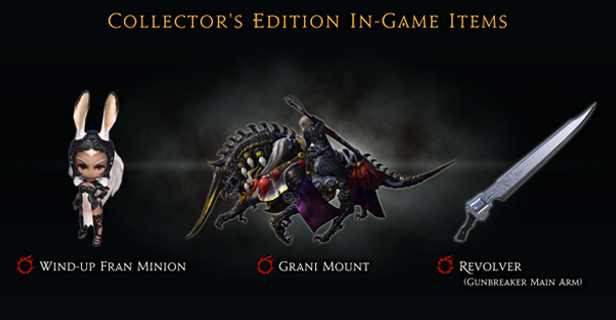 Grani Mount
Ride the formidable Grani and strike terror into the heart of any foe in your path. Caution is recommended when mounting the rather pointy beast.
• Players must meet certain conditions to be able to fly and dive.
• Flying is limited to Heavensward, Stormblood, and Shadowbringers areas.
• Diving is limited to Stormblood and Shadowbringers areas.
Wind-up Fran Minion
Take Fran along as your partner in the skies, on land, or under the water.
• Minions are vanity pets that do not have any effect on a player's stats.
Revolver Gunbreaker Weapon
Squall's iconic gunblade makes its appearance in FFXIV as a gunbreaker-exclusive weapon.
• Equippable by gunbreakers regardless of level.
• The weapon's stats will differ from those in FFVIII.